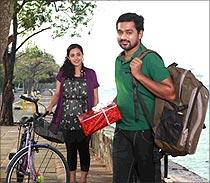 Paresh C Palicha feels Violin is a typical love story. Post YOUR reviews here!
Veteran director Sibi Malayil's
Violin
with Asif Ali and Nithya Menon in the lead is a love story with the violin as a prop.
It tells the story of Angel (Nithya Menon), a brave girl living with two aunts in the picturesque Fort Kochi. She is what we may call an angry young female taking on abusive men and keeping lecherous characters at bay.
She gives violin lessons to children and bakes cakes for a living. She is very possessive of her violin -- the last gift that her mother gave her on her seventh birthday. Things change when Aby (Asif) comes to stay on the top floor of their house. The guitar-strumming young man has come to work in the fisheries factory owned by their landlord Simon (Vijayraghavan), and strums his guitar at a hotel at night.
After the customary antagonism, Angel begins to like Aby's music and his innocence. She even comes
to terms with the demons of her past with his help. But there are a couple of gory conflicts to solve before the happy ending.
Written by Viju Ramachandran, who seems to follow Lohithadas' footsteps as far as characterisation goes, we see a bit of Manju Warrier of
Kanmadam
and a bit of Meera Jasmine of
Kasthooriman
in Angel. Aby reminds us of Vinu Mohan of
Nivedyam
. So, there is nothing new for Sibi Malayil to work on. Everything seems to flow at a predictable pace.
Manoj Pilla's enticing visuals of Fort Kochi may work well as tourism promotion videos.
There is nothing much for the actors to do, but still Asif does well portraying light-heartedness with an underlying pathos.
Nithya Menon cuts a sorry figure; we have seen her do better in shorter roles in
Kerala Cafe
and
Urumi
.
Violin,
in the end, turns out to be a typical love story with nothing new to offer, and it is not anywhere near Sibi Malayil's best.
Rediff Rating
: