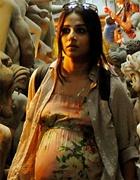 Sukanya Verma says Vidya Balan excels in Kahaani, a film which is much too enjoyable to find flaws
.
The concept behind a jigsaw puzzle is most fascinating. Its three-step model involves drawing an intricate picture laden with buried details and fine clues, cutting it into several unrecognizable segments and assembling a jumble that carries a seemingly simple challenge -- to fall in place, to make sense.
Suspense thrillers are just the same. But very few films belonging to this genre are able to fit the right piece in the right place. And that's what makes Sujoy Ghosh's accomplishment in
Kahaani
worth all the applause that comes its way.
He builds anticipation and tension without relying too much on the age-old ploy of red herrings or an overwhelming background score. It's as though he wants his viewer to follow the cues, solve the conundrum on a personal level and entertain every conceivable theory/ wild suggestion that pops in the head. Gratifying, if you nail it and astounding even when you don't. Either way his refreshing approach is appreciative of his viewer's intellect and enthusiasm.
Kahaani
begins on a chaotic, breathless note with the arrival of a heavily pregnant Vidya Venkatesan Bagchi (Vidya Balan) in the frantic pace of Kolkata (also playing the only protagonist that has more scenes than its brilliant leading lady).
A London-based software engineer, Vidya is a Tamilian married to a Bengali and visiting the City of Joy, not for any jolly reasons, but to inquire the whereabouts of her missing husband Arnab Bagchi (Let's not take names. Only that I wish Ghosh had picked someone more compelling than this actor to play him.)
Although she's in her third trimester (in most films this would serve as an excuse to concoct sniffles or sadism), Ghosh doesn't treat Vidya's state like some ailment. Rather he ensures the characters around her are realistically considerate like the handsome, helpful cop Satyoki aka Rana (Parambrata Chattopadhyay). Save for the rude, cold, imposing Intelligence Bureau hotshot, Khan (Nawazuddin Siddiqui), Ghosh's Kolkata is brimming with warm, sympathetic inhabitants.
There is more than meets the eye and that's the beauty of this film. It treats deceit like a heartbeat on which it throbs and thrills. To discuss the plot any further would potentially spoil the fun of what is best enjoyed with bare minimum information.
While journeying with Vidya (dressed in Sabyasachi's clothes not creations) through her frustrations and anguish in this deftly written script by Ghosh and Advaita Kala, Kahaani often pauses for light interactions to offer a glimpse into the everydayness of Kolkata soaked in Rahul Dev Burman's timeless tunes. The Boss (Refer to
Jhankaar Beats
) is back. Like
Ishqiya
,
Kahaani
, alongside Vishal-Shekhar's spiffy soundtrack adds a nostalgic touch with its use of RD hits from
Ghar
(
Tere bina
),
Yaadon Ki Baarat
(
Lekar hum diwana dil
) as well as Bangla versions of
Jaanejaan
(
Jawani Diwani
) and
Apne pyaar ke sapne
(
Barsaat Ki Ek Raat
).
Unlike many films that rely on a city's clichés to force feed its significance, there's none of the contrived Bong paraphernalia: O-emphasizing accent, dramatic play of conch shells, rasgulla/mishit
doi excesses. Even the iconic Howrah Bridge shows up sparingly only to convey an unforeseen connection, a whiff of an infatuation.
In place of in-your-face cultural stereotypes, Ghosh pays a fond yet understated tribute to the city's essence and elements -- yellow taxis, leisurely trams, congested traffic, claustrophobic metros, dilapidated brick houses, tapering alleys, rajnigandhas, lal paad saris, piping hot luchis and a gorgeous depiction of how the city acquires a whole new level of luminosity and 'shakti' during the famed Durga Puja. It blends into the subtext of his yarn, even sometimes making an innocent joke about the sleepy infrastructure or its lack of computer savoir-faire.
Kolkata's architecture, even the rundown bits, lends a wonderful edge to Setu's visual commentary. Dark, lingering, soulful, amusing, festive, enigmatic and unchanging -- Kolkata is multiple people in a city's body. This varied, pulsating and intriguing temperament is what is documented in its yellow-toned frames without distracting itself from the story or its telling.
If on one hand, it packs in the essentials of a mystery: rummaging for files in a dangerously dark setting or a breathtaking chase via tricky passages, it is insightful enough to observe how ego and instincts tussle around professional hierarchy. And, despite all the ensuring duplicity, there are moments of awe-inspiring purity. Like the scene where a little boy offers his most precious possession and a heartfelt smile to comfort our downcast heroine.
Its engaging content (swift editing by Namrata Rao), along with a set of perfectly cast actors (credited to Roshmi Banerjee) suppress the need to sidetrack and verify the plausibility of it all. From the humoring gentleman on the reception of a small-time guest house to the instantly epic Bob Biswas (Saswata Chatterjee) to some of the most spontaneous child actors with melting smiles, Ghosh picks his actors with care and a watchmaker's precision. 
Vidya Balan has the gravitas to excel in a role that requires her to be sensible, adamant, sharp, vulnerable and pregnant. Like she's done with every subsequent release, Balan replaces the memory of her last performance (
The Dirty Picture
) with a sparkling new one. It's not a showy, act-out-loud delivery and that's what makes it so seamless.
And even though
Kahaani
is designed around her, her co-actors are just as impressive. Parambrata's gentle countenance and measured delivery as someone with an obvious soft corner is an ode to understatement.  On the other hand, Nawazuddin Siddiqui's caustic tone and humorless disposition conveys unpleasant in its most memorable avatar.
Sly, gripping and taut,
Kahaani
is much too enjoyable to find flaws. This is, without doubt, Sujoy Ghosh's best work so far. Go watch it.
Rediff Rating: