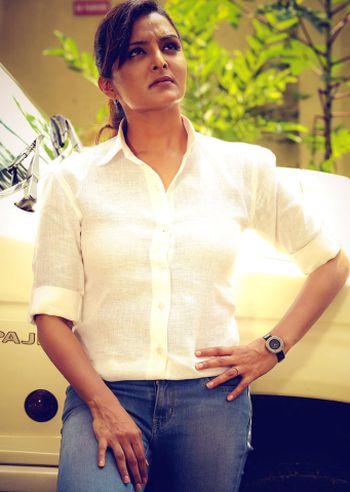 Vettah is not as satisfying as promised, feels Paresh C Palicha.
Vettah director Rajesh Pillai, 41, was hospitalised on the same day that his film released, and he passed away a day later. One of Malayalam's promising directors, Pillai had only four films in repertoire, Traffic being a landmark film
The re-entry of Manju Warrier into films has given scope to directors to tell stories about woman, who balance their work with their families.
Here, the actress plays an efficient police officer, who feels, 'Life is hunt and it is we who choose whether to hunt or be hunted.'
Sreebala IPS (Manju Warrier) is not a superwoman. We see that her personal and professional lives overlapping.
The story has a lot of chaos, as people fall dead periodically. Then, a popular heroine goes missing after attending a college reunion with a batchmate. Her car is found abandoned on the road. Obviously, our lady is in charge of the investigation. She works with subordinate Xylex (Indrajith), who is suspended from service, as she feels he has a connection with the case.
They zero in on a suspect named Melvin (Kunchacko Boban), the brain behind the reunion.
There is manipulation, deceit and mind games as we go further into the story.
The screenplay by Arunlal Ramchandran tries to build up more intrigue at the cost of being convincing. The narrative goes in loops a couple of times before the finale.
All this happens because of atrocities committed against a child by the school authorities, which is covered up with money and muscle power.
Kunchacko Boban sporting a grizzled look makes himself convincing as a criminal of psychopathic nature.
Indrajith repeats himself as a hot headed person. The role doesn't demand much from him otherwise.
Manju Warrier has been presented as a stylised version of a female cop rather than a no- nonsense person, who can think on her feet.
Vettah is not as satisfying a watch as it had promised.
Rediff Rating: