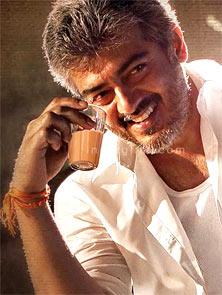 S Saraswathi says Veeram is a slow-paced family drama with all the elements of a commercial entertainer.
After the huge success of Aarambam, expectations were sky-high for the Ajith starrer Veeram. Directed by Siva, who gave the commercially successful Siruthai in 2011, the film is produced by Vijaya Productions, the prestigious banner of the late producer B. Nagi Reddy.
Set in a rural backdrop, Veeram is a slow-paced family drama that revolves around Vinayagam (Ajith) and his four brothers Vidharth, Bala, Munish and Suhail Chandhok. All of them are known to be extremely violent and get into fights at the slightest provocation.
Vinayagam has brought up his brothers single-handed and is determined to stay unmarried as he fears that bringing a woman into the house will disrupt the family and cause a rift among the brothers.
The brothers, however, have other plans. Two of them are already in love and believe that the only way to make Vinayagam approve would be to make him fall in love, too.
On a mission to find an ideal match for their brother, they zero in on Kopperundevi (Tamannaah), who is part of a group that restores old statues in temples.
Along with Santhanam, who is their lawyer and friend, they devise several plans to bring Vinayagam and Kopperundevi together. After a few hiccups, the two do fall in love, but now there is a decided twist in the story.
Will it be Vinayagam's violent past that destroys his chance at happiness or will Kopperundevi and her family's past come to haunt them? All this in the second half that seems to be just as slow as the first.
The film seems to pick up momentum only during the action sequences.
Ajith sports a different look in the second half, reminding us a little of the good old boy-next-door Ajith of Vaali and Villain.
After Billa, Ajith seems to have acquired this all-powerful indestructible image that seems to have struck a chord with the audience, and all his directors seem to be bending over backwards to nurture this image.
Though his dark glasses, black T-shirts and expensive suits have been replaced by a snow-white dhoti and shirt, he still maintains his larger-than-life persona in Veeram and effortlessly destroys the enemy with his power-packed punches and equally powerful dialogues, guaranteed to send his fans into a mad frenzy.
Tamannaah is totally unsuited to this sad, saree-clad boring character and has little to do in the film.
Santhanam lacks his usual spark, but Thambi Ramaiya in the second half provides some laughs.
There are no terrifying villains in the movie either; their sole aim seems to be getting bashed up by Ajith. The action sequences choreographed by Silva, however, do deserve some credit.
The song Nalavannu Solvanga has become quite popular, but otherwise there is nothing remarkable about Devi Sri Prasad's music in Veeram.
Though there is no denying that the super cool, ultra stylish Ajith can carry off any movie on his broad and powerful shoulders, there is nothing remarkable about Siva's Veeram.
With an ordinary story line, an average screenplay and characters that are all overshadowed by one man, the film seems like an ode to Ajith and should be dedicated to all his fans.
Rediff Rating: