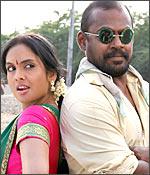 Gentle comedy interspersed with a racy screenplay seems to be the trend, these days but Annamalai Films's Tamil film Vedigundu Murugesan, directed by Murthi, has decided to go the whole hog and give you a laugh riot. Or so they claim.
The characters raise your expectations. In the village of Kizhrajakularaman, there's Vedigundu Murugesan (Pasupathi), a contradiction of sorts. He's a water-seller wearing a lungi, has a coin in his ear (on account of smelly discharges), is a smart-aleck who shoots off his mouth about everything from love, money-lenders and regularly ends up in court. He also reads serious literary magazines like Kalachuvadu, and is the sole care-giver of a mentally-challenged young woman, Ponni (Deepa), who's so ill-treated that her family is prepared to kill her.
On the end of the spectrum is Alert Arumugam (Vadivel) a trickster who's up to every trick in town and finds newer ways to con the money out of people. Despite giving you the impression that it'll be a combination of laughs, each does it in a separate track, hilarious at times, but still disconnected.
Living life in the company of his friend Ussh (George), Vedigundu Murugesan leads life merrily, until he bumps into Nachiyar (Jyothirmayi), a police constable who breaks into tears at every opportunity, and then realises that the protagonist has a heart of gold (but naturally). Their friendship, as it develops slowly, is picturized rather beautifully in a series of montages through the song Neenda Dhooram, composed by Dhina (and the only one that makes any impression).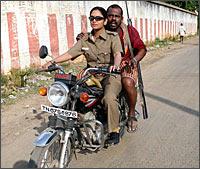 Somewhere along the way, Nachiyar discovers that Murugesan suffers from epileptic fits as well, in addition to the reason behind his peculiar name. An unlikely romance develops which is interrupted rudely by a comic villain Low Sugar Ganesan (Veera) and his equally ridiculous brother Kodanchan (Ranish). The latter messes with Ponni, who cannot save herself and risks the wrath of Murugesan in filmi fashion.
What follows is a screenplay that veers from utter seriousness to fits of comedy, laced with sarcastic comments that actually poke intelligent fun at today's movie. So you have Pasupathi speaking in rich Madurai Tamil for a while, then switching to ordinary language, uttering platitudes about life, love and everything under the sun, after which he suddenly changes direction to satire. You only wish the whole movie had followed that path, instead of making allowances for the 'Hero' syndrome.
Pasupathi shines during the moments he (or the screenplay) forgets that he's supposed to be the hero; at others, you're surprised to see him hamming to glory and taking himself too seriously. Surely this seasoned theatre artist can do better than that.
Vadivel is his usual, overbearing, cheery self, getting away with almost everything before the final act. A fresh breeze of cheer.
Jyothirmayi's performance is puzzling at first; she's a police constable who cries like a baby at the drop of a hat; abuses her parents like crazy and suddenly turns into a good Samaritan, until you realise that the director's actually trying to satirise the traditional Tamil heroine role except that it doesn't really strike you until the very end, which is why it falls flat.
The surprise package is Deepa. She's perfect as the mentally-challenged girl; her speech and body language evoke genuine sympathy and thankfully don't fall into clichés. She's a joy to watch.
Despite its many failings and loop-holes, Vedigundu Murugesan does work at times chiefly because the climax and screenplay try to rise above the ordinary and yes, of Vadivel, and sometimes, Pasupathi.
Rediff Rating: