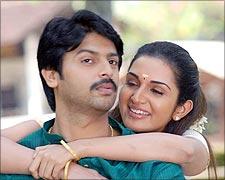 Paresh C Palicha feels Malayalam film Uppukandam Brothers Back in Action is a B-grade movie. Post YOUR reviews here!

Some people believe that the easiest way to achieve success is to copy the successful. This theory is most religiously followed in the film industry. As soon as you have a successful concept, there will be half-a-dozen copy-cat films made in as many months.

Uppukandam Brothers was made some 18 years ago, when the Malayalam film industry was under the Siddique-Lal spell, which produced one of the biggest hits of the time, Godfather. The film about several feudal families all fighting each other (sometimes without any discernible rhyme or reason), was directed by T S Suresh Babu with second rung actors like Babu Antony and Co.
Now Suresh Babu is back with Uppukandam Brothers Back in Action with Tamil hero Srikanth making his entry into Malayalam films. Other than that, there is nothing new in the film in terms of plot or narrative style.
So alike are the two films, that even the punctuation marks seem to be in the same place in the script credited to Reji Mathew!
There is the feudal rogue Bobby (Srikanth) taking on the corrupt panchayat president played by Jagathy Sreekumar (providing comical interludes) and gambling in the local club. He can only be tamed by his elder sister (Vani Viswanath), who is in charge of the family's business interests as well as its charities. Bobby gets a well educated (MBBS, no less) girl (Honey Rose) to fall in love with him and marries her even though it is an inter-religious alliance. Full marks for secularism.
Other characters that jump out of the past are Babu Antony, Jagadeesh and the stern matriarch portrayed by Seema.
There is one deft directorial touch in Suraaj Venjaaramoodu, the struggling director who is making a film on Bobby and saying that he lacks the flamboyance of such a hero and his life requires more action.
If you remember the original B-grader you may be able to appreciate its sequel a little more. But in the end we just stop caring and wonder why the original no-brainer was such a success as to inspire a sequel.
The million dollar question is, why did Srikanth choose such a B-grade film as Uppukandam Brothers Back in Action to make his debut in Malayalam films?
Rediff Rating: