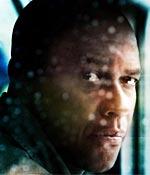 Elvis D Silva reviews Unstoppable. Post YOUR reviews here!

Sheldon Cooper, a character in the television show The Big Bang Theory, would probably drive his fictional friends crazy with trivia about the locomotives featured in Unstoppable.

Even if you don't know what I mean, it won't take away from your experience of Tony Scott and Denzel Washington's fifth collaboration where the real stars are spectacularly large pieces of machinery that simultaneously dwarf man while also standing testimony to his ability to envision and build something so much bigger than himself.

There is a comfort to the cinema produced by Ridley Scott's younger brother. You can rely on it to be jaunty, muscular, masculine and entertainingly showy.

Tony Scott is the man responsible for such guilty pleasures as Top Gun, Beverly Hills Cop II, True Romance, Crimson Tide, Man on Fire and the remake of The Taking of Pelham 123. The man may be sixty-six years old but you wouldn't be able to tell from watching his movies that tend to be delightfully A.D.D in their use of colour, editing rhythms and sound design.

Unstoppable is a big movie, with a capital B. The legend at the beginning reveals that the film is based on true events. On May 15, 2001, a 47-car CSX locomotive left a Toledo, Ohio rail yard without an engineer and wasn't stopped until it had run 66 miles through three counties. No one was injured in the incident.

Naturally such an occurrence alone does not make for very watchable cinema. So in the film the action is moved to rural Pennsylvania, the runaway train is carrying toxic chemicals and it is most likely to derail in a densely populated area if it isn't stopped. The most likely derailment point could be the site of an environmental disaster that could kill hundreds of thousands of unsuspecting residents.

In the classic construct of the American Hero movie, two men find themselves tasked with the responsibility of catching this train -- the driver is 28-year veteran Frank (Washington) while four-month old newbie Will (Chris Pine) is the conductor. It is an odd couple pairing that contrasts them in every way possible -- colour, age, family history; even the state of their job security is on opposite ends of the scale.

In the control room is the no-nonsense Connie (Rosario Dawson) who has to interface between her bottom-line obsessed boss and the two men on the track who could be staring down certain, fiery death upon collision with "a missile, the size of the Chrysler building."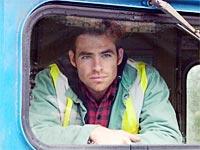 This is adrenaline cinema doing what it does best -- using sound and image to pummel you into a state of finely tuned anticipation. And believe me when I say there are some super tense moments in this yarn.

The movie starts out slower than the usual Tony Scott adreno-drama, but by the time the two heroes embark on what any right-thinking person would define as a suicide mission you will be gripping your armrests so hard your popcorn will go soggy from neglect.
The lead pair does their bit to propel the narrative forward but really, in this case, it is the work of the stunt team, the cinematographer Ben Seresin, the editors Robert Duffy and Chris Lebenzon, and the director, that makes this such an exciting movie to watch.
Unstoppable is just a good old-fashioned fun time at the movies. If that is all you expect from your weekend's entertainment, you will not be disappointed.
Rediff Rating: