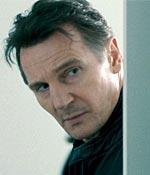 Elvis D'Silva reviews Unknown. Post YOUR reviews here!

It was probably sometime after the release of Taken (and its surprising but impressive financial success) that Liam Neeson was considered a bona fide action hero.

It was recognised that Mr Neeson could do 'wounded' as well as 'fierce' with relative ease. And so another franchise-capable star was identified.

It is unclear whether The A-Team, in which he starred, will get a sequel but with the announcement that there is to be a sequel to Taken, we are ensured of at least one more movie where Neeson will kick some ass.

For now we have Unknown, which like Taken, is set in a European city (Berlin this time) and while he was attempting to rescue his daughter in the aforementioned movie, in this one Neeson's character is trying to find himself.

At the outset we are informed that he is Dr Martin Harris, visiting Berlin for a bio-tech conference with his wife Elizabeth (January Jones) and when he is alone in a taxicab in the unfamiliar city, he ends up in a car accident that puts him in a four-day coma. When he wakes up, his life has been turned upside down.

His wife doesn't recognise him. His place at the conference has been taken by another man who claims to be the real Dr Martin Harris and he has no money or friends in the freezing cold city.

Most of this information is in the trailer so I am not really giving anything away. And I am not going to say much more about the plot in this review. Instead, I will discuss formula filmmaking and the triumphs and pitfalls inherent within building a motion picture out of a template.

For those who care about such things, it is clear that there are certain common elements between Taken and Unknown -- the 'stranger in a strange land' premise along with the attendant foreign languages and time differences to deal with, Neeson at the centre, a reluctant ally (Diane Kruger, this time around) and more wrinkles in the plotline than is immediately obvious at the start of the movie.

That said, Unknown is a somewhat less satisfactory movie than its spiritual predecessor (even though it has a more inventive premise than that of Taken). While a couple of the action scenes are quite energetic (and a little reminiscent of the second Bourne film), the performances are rather uneven with Ms Jones being a prime offender.
It is possible that she is quite appropriate in her day job (the television series Mad Men) but she brings no presence or personality to her role as Elizabeth. One can't help feeling that any of a hundred other Hollywood blondes could have essayed the role with greater ease and to greater effect.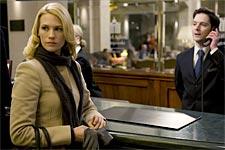 On the other hand, Bruno Ganz is very good as an ex-Stasi agent who works as a detective in this new unified, mild-mannered Berlin. As the taxi driver who rescues Neeson's character, Diane Kruger also does a good job in her supporting role and the two share a couple of decent moments amid the chaos and confusion of this film.

Because of the nature of the script, it takes a long time for Neeson to do what people expect of him in a movie like this and even when that moment comes, it is gone far too quickly. The idea behind Unknown is very intriguing but the demands of commercial cinema ensure that the plot twists hold, but the morality doesn't. You are only likely to notice if you expect such things from your entertainment.

For those expecting a diverting romp through a European city following the adventures of a rugged man who wears his 59 years of age very lightly, this movie should keep you well entertained. I have been led to understand that sometimes, that much is enough.
Rediff Rating: