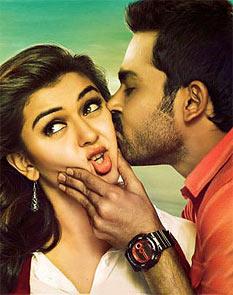 Tamil film Biriyani is a fun-filled thriller, says S Saraswathi.

Director Venkat Prabhu, who is known for offbeat entertainers like Chennai 28, Saroja and the mega hit Mankatha, is back with a dark comedy called Biriyani. The film stars Karthi, Hansika and Premgi Amaren, along with a host of supporting actors.

Produced by Gnanavelraja's Studio Green, the film has all the ingredients of a Venkat Prabhu film. The sheer number of characters in an offbeat story with its unpredictable twists, liberally laced with humour and flavoured with great music makes Biriyani a well-packaged treat for the viewers.

Karthi, who seems to have had a style makeover with his trendy clothes, new hairstyle and coloured eye lens, plays the role of a casanova, Sugan. Despite having a gorgeous girlfriend, a media reporter, Priyanka (Hansika), Sugan flirts with all the pretty women he meets and they too, are besotted by him.

Premgi Amaren is his usual quirky self as Parasu, Sugan's childhood friend and sidekick. Both travel to Ambur, for the inaugural of their Company's new showroom.

The chief guest at the inaugural ceremony is a business tycoon, Varatharajan (Nassar), who is also suspected of several shady dealings and is currently being investigated by the CBI. On the return journey, Sugan insists that they stop at a roadside eatery for biryani, his weakness.

It is here that they meet the sensuous Maya (Mandy Takhar), who insists that they join her in her hotel room. Unable to resist the temptation, Sugan and Parasu accompany her and after several glasses of alcohol, they are totally disoriented and before they know it, it is morning and they are being hunted by the police for the murder of Varatharajan.

What actually happened in the hotel room and how Sugan and Parasu get out of this mess, forms the rest of the story.

The number of characters in the film is sure to make your head spin. Besides Premgi, there are several other regulars of a Venkat Prabhu film, who either play a supporting role or make a cameo appearance.
Sampath Raj plays Riyaz Ahmad, a CBI officer; Jayaprakash is the Commissioner of Police, Nithin Sathya and Sam Anderson play Sugan's friends, Uma Riyaz Khan, Subbu Panchu and Ramki play important roles.
Hansika is forgettable while Uma Riyaz Khan gives an excellent performance.

Venkat Prabhu also continues his association with cousin Yuvan Shankar Raja, and incidentally this is Yuvan's 100th album as a music director. He has made Biriyani special by adding some interesting touches, there are a couple of remixes, a rap song by Gaana Bala, but the highlight is the motivational song Edhirthu Nil sung by popular contemporary music directors, D Imman, G V Prakash, S Thaman and Vijay Antony.

On the downside, the film has a slow first half, and too many flashback scenes. Premgi is also getting repetitive and boring.

Though the film takes its own sweet time to get a move on, once it gathers momentum, there is no stopping till the end, where there is an exciting climax, as well as an anticlimax, in typical Venkat Prabhu style.

Rediff Rating: