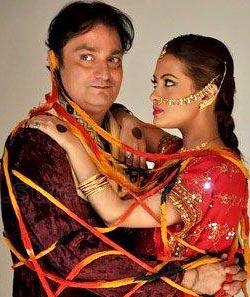 Ankur Pathak feels that Tere Mere Phere is let down by it's lead actors. Post YOUR reviews here!

Has an aircraft ever returned to its starting point, just because a couple was fighting for arm-resting space? Well, looks like the screenwriters of
Tere Mere Phere
have taken certain liberties, tossing reason and logic out of the window, only to lend their film what an anxious producer would call a "dhamakedaar shurvaat".
Tere Mere Phere
is the kind of film where the embarrassing performances by the lead pair fail a genuinely well-thought story. Actor-producer Deepa Sahi (of the
Maya Memsaab
fame) sets out to direct this movie which is about a young couple -- Pooja and Rahul -- marrying after a whirlwind romance only to quickly realize that marriage is an obsolete concept plagued by thorns.
From there on, we are burdened with a laborious extension that robs the film of the little sense it makes.
That said, it can be stated that
Tere Mere Phere
is a film with abundant ambition, evident in the audaciousness of its characters and their choices. The film is a story told in flash-back while the couple drives an impatient Vinay Pathak to Shimla narrating en route what led to a break-up on their honeymoon.
Rahul and Pooja decide to celebrate the marriage anniversary in the mountains of Himanchal -- but not in the usual fashion. They are gifted a fully equipped trailer (a vanity-van sort) which they ride with surprising comfort in the valleys. Everything is glossy and hunky-dory, much like the passionate vibe between just-married couples, but signs of conflict can be sensed lurking just around the corner. The insignificant squabbling magnifies when another wannabe-rockstar couple hitch-hikes with them.
It is an interesting sub-plot, a great device to add tension, but after their brief visit, it is only the two of them screeching at each other. This too is fine. Because the impulsiveness of their conflicts, especially in the scene where they break objects and then start making-out, reflects a lot of youthful eccentricity. However this genre is best mastered by Imtiaz Ali, who knows better how to carve the shots appealingly and
where to stop.
The film is fixated on being recognised as 'cool'. It tries hard to explore and echo the imperfect decisions of the young in context to the prevailing culture, and does the tragic mistake of justifying every bit of them as not-so-wrong after all. 
Where the picture could opt for a stereotype-defying climax, it ends up right there through preposterous sequences that try to affirm that the spur-of-the-moment marriage is a success, after all.
This however is least of the worries of a film that is ruined by this pair of awful actors. Jagrat Desai and Sasha Goradia both complement each other, for appalling acting that is.
You really cannot tell who is worse. If the guy suffers from an annoying high-pitch tone, aggressively horny expressions, uncomfortable body language, the girl's dialogue delivery is so superficial, and expressions so cooked-up, both appear to be in a show mocking soaps from Indian television.
I don't even understand how director Deepa Sahi -- who herself is a fine actress -- tolerated these two on the production. More importantly, why pick up obvious bad performers, who ruin dialogues in every scene they appear in?
Not that the writing is impeccable, but the hopeless actors make matters irreparable for screenwriters. Here, both merely state lines.
On top of that we have Riya Sen in the film playing a Himanchal village-belle who looks more like a Victoria Secret model, Indianised for effect, and is stuck in the miserable conflict of which-accent-am-I-really-speaking in?
Obviously, an entire film can't rest on Vinay Pathak alone, who has a thing for scripts that deal with road/water/train expeditions.
With the Himalayan landscape as a backdrop, it must be said the cinematography is reasonable, but there was enough scope to brighten the frames exotically. 
Final word:
Tere Mere Phere
is set on a premise that had enormous potential to pass off as a great romantic comedy which at the same time mirrors prevailing zaniness of the young.  A talented cast could have taken the film many notches up; slightly improved writing, and direction would have made the deal even sweeter.
Right now,
Tere Mere Phere
passes only in persistently bad acting and that it does by distinction.
Rediff Rating: