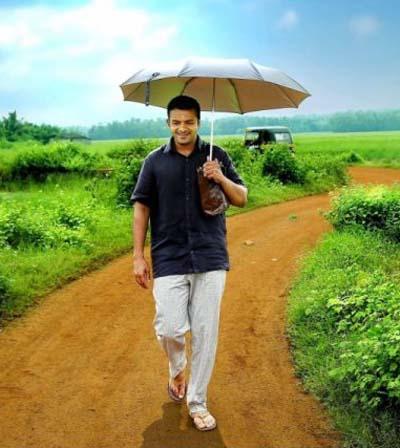 SuSu Sudhi Vathmeekam handles the subject of physical limitations judiciously without trying to manipulate a viewer's emotions, writes Paresh C Palicha.
We do not have a culture of making biopics on people living with physical or mental impairments as Hollywood does. But director Ranjith Sankar steps into that space with SuSu Sudhi Vathmeekam, with Jayasurya playing Sudhi.
Sudhi is inspired by one of Ranjith's colleague and friend from his software engineering days. He had a stammer. The director tries to tell his story in the least emotionally manipulative way even while establishing the fact that such people are vulnerable, have an inferiority complex, and dread the day their life derails from a set pattern.
Sudhi has all these and more. An introvert since childhood, other children would not include him in their groups because of his speech. His father (T G Ravi) always gives him confidence saying that his is a minor problem and he would have to learn to overcome it some day.
Sudhi becomes a clerk in a private school with the help of a managing trustee Kurup (Irshad). He becomes comfortable in this job and turns a blind eye towards a siphoning of funds that Kurup does.
One of his best friends Graygon (Aju Varghese), who dreamt of becoming an actor, works in the same school as the Physical Trainer.
Meanwhile, talk of Sudhi's marriage starts making the rounds. It is revealed that he has decided on principle that he would approve of the first girl he sees. The girl happens to be Sheela (Swathy Narayanan), and she approves of him as well. She knows of his speech impairment but the gravity of his condition sinks in when they get engaged, and she calls it off 10 days before the wedding. This leaves Sudhi devastated.
In between, we see situations and people that make Sudhi's life look wholesome. Among them is a quack doctor (Sunil Sukhada), who gives Sudhi weird physical and mental exercises to cure his stammer. Then comes Kalyani (Shivada), who is a speech therapist and the reason for Sheela's departure. She gains prominence in the worst period of Sudhi's life.
If we have to nitpick, we can say the director takes a long time to enter Sudhi's life story. The narrative goes into flashback to a road trip where our hero is given a lift by none other than actor Mukesh (who plays himself) and he is curious to know the inspiring story of Sudhi's life.
The think-tank behind the film justifies Mukesh's presence in the movie just before the climax showing how people go behind reel stars, who earn their living by imitating real people in front of camera while the real heroes are around us.
A major reason this story works is because Jayasurya puts spirit into Sudhi's life, and brings out his vulnerability, pain and tension when he fears that his words will betray. He is equally good in depicting the little triumphs that he achieves and the happiness he experiences while being in the midst of his loved ones.
Aju Varghese, who plays Graygon, is not an out and out comedian even though he gets a few funny lines. He is a friend who everyone needs when they lack self confidence.
Shivada and Swathy get prominence as leading ladies.
Su Su Sudhi Vathmeekam is a brilliantly made sensitive film that handles the subject of physical limitations judiciously without trying to manipulate a viewer's emotions.
Rediff Rating: