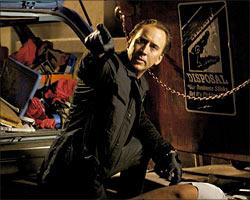 Nicholas Cage returns with Stolen, a predictable action thriller.
Clearly Nicolas Cage doesn't believe in taking a break.
The actor returns with director Simon West's thriller
Stolen,
which is a fast-paced edgy film with some good action and a lot of emotional drama.
In New Orleans, Will (Nicolas Cage) is an accomplished career criminal but soon he is behind bars for eight long years following a heist-gone-awry.
His partner in crime Vincent (Josh Lucasin), who he shot in the leg following an argument, fakes his own death and lives around the same place. He now drives a taxi and has a new identity, he lives in crazy conditions and has gone completely nuts. He holds Will responsible for his current state.
Vincent waits eight years for Will to get out of the prison so that he can get his share of the ten million dollars which he believes Will has.
But Will burnt the money before surrendering to the cops after a long car chase. Vincent doesn't believe Will's story and goes ahead and kidnaps his daughter. He keeps her in the trunk of his cab and weirdly driving around town demanding his share from the $ 10 million.
Since Will doesn't have any money and wants his daughter back, he's forced to pull another heist to raise the funds. He does it with the help of another ex partner in crime Riley (Malin Akerman), who now works a bar.
Cage's movies are looking the same and that's because he is doing the same thing over and over again. It's time he did something totally different and if he decides to change something then he should start with his hair which looks weird in this film.
Director Simon West does an average job this time. Though the story is predictable and full of clichés, the action scenes are good and are well shot.
Overall, Stolen is a decent watch.
Rediff Rating: