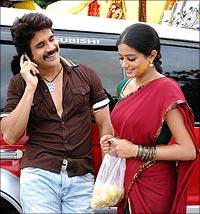 Radhika Rajamani reviews Ragada. Post YOUR reviews here!
Rayalaseema, in Andhra Pradesh, has formed the backdrop of many Telugu films. A part of Ragada, too, is set in Kadapa in Rayalaseema. Instead of the normal faction rivalry/feuds one sees in most films, here it is a bit different.

Director Veeru Potla seems to be comfortable with the Rayalaseema milieu as his earlier film Bindaas was also set in these surroundings.
In Ragada, Potla churns out a mass entertainer filled with fun, gut-wrenching action, romance and some comedy. Nagarjuna enjoys doing an action entertainer after quite some time.
 
Storywise, the film offers a slender premise.

Sathya (Nagarjuna) comes to Hyderabad and en route, beats up everyone and joins GK (Dev Gill). He's a new entrant in the scene in Hyderabad where the dreaded 'don' 'Peddanna' (Pradeep Raawat) calls the shots. Sathya kills and takes the money, leaving the audience trifle surprised as to his motive for doing so.
 
It's only later in the second half that the reasons are revealed. In the process, he meets Sireesha (Anushka) and Ashtalakshmi (Priyamani). The battle to kill and make money is quite interesting as the director ensures enough twists and turns to keep the story moving. He also introduces Brahmi (Brahmanandam), Dharmavarapu and Master Bharat to ensure the comedy element too.

Sathya locks horns with everyone while on his mission till he meets Pedanna in the climax.
 
The film is very formulaic loaded as it is with all the staples. Potla has tried to play it safe by keeping it in the commercial realm. He has the usual share of songs (two shot well in Petra, Jordan) and enough action sequences. Potla ensures there's not much of boredom as there are surprises in store.

Though it's a family film, there's enough violence to keep children at bay.
 
It's not an original story; the difference is only in the presentation though the logic seems missing at some places.
 
Ragada is Nagarjuna's show all the way. He flexes his muscles with ease, romances both the heroines and dances effortlessly. His dialogue delivery with a Rayalaseema accent is apt and at 50 plus, Nag not just looks dapper but delivers the goods well too.

Anushka and Priyamani enhance the glamour by leaps and bounds with their outfits mostly. Role wise they don't have so much to do. Kota, Pradeep Raawat, Sushant Singh (though the role was hardly befitting his acting skills), Dev Gill who essay the negative characters perform well.
 
Ragada is a paisa vasool film if you are fond of potboilers.
 
Rediff Rating: