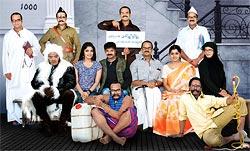 Paresh C Palicha feels Malayalam film Shankaranum Mohananum is a funny ghost story gone wrong. Post YOUR reviews here.
Dealing with the dead is difficult and may sometimes prove to be disastrous, as in director T V Chandran's new film
Shankaranum Mohananum
.
The director, who is best known for dealing with 'serious' subjects, tries to break into comedy, and has chosen the young actor Jayasurya, who has comic flair and is a well-known mimic, for the main -- some would say, only -- part. Jayasurya's twenty-odd different 'looks' for the film have got much publicity.
The plot of two brothers, one dead and haunting his live sibling, is not exactly novel. Movie audiences will be reminded of the Hollywood movie
Ghost
(1990) starring
Whoopi Goldberg and
Patrick Swayze, which was then made into Malayalam as
Aayushkalam
(1992) with Jayaram, Mukesh and Saikumar.
Here, Shankaran (Jayasurya), the elder brother, a middle-aged school teacher, dies of a snake bite leaving behind his very young wife Rajalakshmi (Meera Nandan). He has not had enough time to be with his wife, so he starts stalking his younger brother Mohanakrishnan (also played by Jayasurya), who is a fashion photographer, and asks him to convey his feelings to his wife and let her know that he is still around.
Initially Mohanan is scared out of his wits by the experience, even seeking the help of a psychiatrist and the village exorcist. Then, slowly, the dynamics of their relationship begin to unravel.
Mohanan is separated from his wife Jyotsna Mathew (Rima Kallingal), a former model and a struggling actress. She lives with their daughter in Mumbai. As the plot progresses, it reveals that Shankaran was opposed to the inter-religious marriage and that Mohanan's own possessiveness and hypocrisy played a part in the break-up.
The need for so many disguises is because Shankaran appears in a different avatar before his brother to urge him to talk to Rajalakshmi. Even so, twenty different get-ups do seem a little excessive and unnecessary.
There are also subtexts here (maybe to prove that the director has not lost his intellectual prowess). Mohanan is asked by other victims of untimely death to solve their problems, like Lazar (Jagathy Sreekumar), an automobile workshop owner who runs a gang of goondas who can hurt or kill anyone for a price. Then there are victims of a hooch tragedy and political violence. Some ask him to look after their kids, others to repay their housing loans! Ruminations on death and the after-life cause some unintended chuckles.
Jayasurya never has, and probably never will get, so much on-screen time in any one film again, and while he shows some maturity in dealing with the serious parts of the film, the rest is just mimicry.
Other performers do not have much to do, obviously. Rima Kallingal has a 'what am I doing here?' look throughout her appearance in the second half. Meera Nandan's presence is more muted and she carries it off well.
With Shankaranum Mohananum auteur T V Chandran has tried to do a funny ghost story but ends up making a rather jaded film.
Rediff Rating: