Secret Superstar's cheerful, feel-good imagery of a rotten reality reflects a young adult's hopeful perspective yet to be crushed by the weight of cynicism, says Sukanya Verma.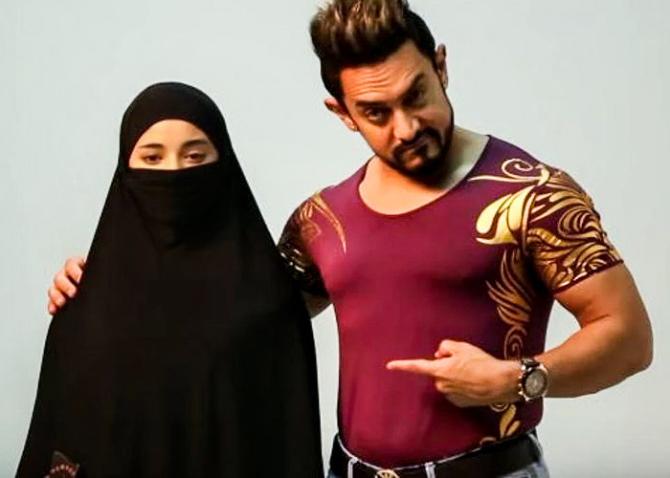 To dream is to breathe, hope and survive.
It's a gift every single person in the world is entitled to.
To make it come true, though, can be a nightmare; not everyone succeeds and not everyone tries.
But when you're a rosy-cheeked 15-year-old at the threshold of discovery, life holds infinite promise and stars the size of planets dwell permanently in the eyes.
One sees their dazzle in Insiya (Zaira Wasim), a 10th grade school kid from Vadodara, a burkha-clad breakout star on YouTube and a rebel with a cause who ardently believes she's meant for bigger and better.
So luminous is her self-confidence, it nearly outshines the darkness pervading it.
As the consequence of a hostile mood at home prompted by its brutish, burned out bread winner, Insiya's pop star aspirations serve more than a romantic fancy; it's her defence and driving force to break out from a stifling, suppressed existence and, while she's at it, facilitates her mistreated mother's -- a magnificent Meher Vij -- emancipation as well.
Disgruntled daddies are an oft-repeated motif in Aamir Khan's productions.
But the father in Secret Superstar -- Raj Arjun is so authentic; I don't want to see his face ever again -- is not careless or exacting like the ones in Taare Zameen Par and Dangal; he's plain toxic.
He first appears in the disgusted expression of a daughter and the black eye her mother pointlessly tries to cover.
By the time Insiya's conservative, cruel father actually shows up, his misogyny is common knowledge and reiterates in frequent episodes of misdemeanour and his family's endurance of it. Save for his son and Shah Rukh Khan, the beast warms up to no one.
While that's one crucial aspect of Secret Superstar, the other is the inspiration television's abounding talent shows spark off within impressionable minds hailing from modest landscapes.
That fascinated look on Insiya's and her mum's face as they enjoy celebrity appraisals of amateur skills over dinner is both priceless and telling.
Dreams and domestic abuse collide in director Advait Chandan's emotional, endearing Disneyesque fairy tale, where its not-so-secret superstar Aamir Khan's fairy godmother act and the blessings of social media provide wings to talent and triumph of spirit.
Despite the grimness of Insiya's hurdles, highlighted by the endless patriarchy and domestic violence commonplace to countless Indian households, Secret Superstar has an unmistakable 'soda bubble' quality to it. The kind Aamir uses as analogy to make his point about irrepressible talent.
There's hilarious abandon in his portrayal of the promiscuous, outlandish Bollywood music director seasoned in Anu Malik's mad enthusiasm and Anil Kapoor's bullish conceit that never feels like caricature, even in the face of a flamboyance that's as blatant as his nipples popping out of an ultra-tight lycra tee.
It's fun to watch the actor parody his anti-awards position and simple stardom to play Shakti Kumaarr – a leering, lecherous, flashy yet unusually harmless embodiment of don't judge a book by its cover.
There are times when Chandan's piece-of-cake ardour to the proceedings tends to make the complexity of the matter seem less severe than it is. And the easy-peasy resolves, last minute non-compliance and saccharine tributes doled out in the third act reek of creative lethargy.
But the wholehearted goodness of Insiya and all those who contribute to her eminence make it easy to overlook the liberties he takes.
Secret Superstar's cheerful, feel-good imagery of a rotten reality, captured gorgeously in cinematographer Anil Mehta's lens and aided by Amit Trivedi's soaring tunes, reflects a young adult's hopeful perspective yet to be crushed by the weight of cynicism.
It pulsates in the anticipation of response to her homemade music video, glows in the avowal of first love (a very adorable Tirth Sharma), basks in the gentle affection of her doting mom and awestruck kid brother, buckles up to remind a has-been his forgotten virtues and help her finally find her own place in the skies.
And because Zaira Wasim is an absolute wonder, her journey there -- even if too good to be true -- is one you bid Godspeed.
She effortlessly conveys the strength of a single-minded artiste, the temper of a hurricane holding back, the impulses of free-spirited adolescence and the guts of a girl who knows who she is.
Rediff Rating: