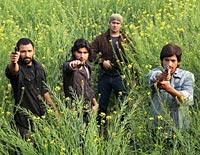 Shaikh Ayaz feels that Sahi Dhandhe Galat Bande draws heavily from various acclaimed films but fails to do justice to the issues it deals with. Post YOUR reviews here!
What begins promisingly with a prologue on land acquisition, best manifested in the Singur-Tata controversy, actor Parvin Dabas' first shot at writing-direction turns the serious issue into a high school joke within minutes.
At best, it's a small-minded attempt at tackling an issue that either the director has read only sparingly or has not understood with all its complexities. Parvin's understanding of the corporate-government lobbying processes, media machinations and how a simple piece of news effloresces into breaking news, contract killing and land acquisition which comes with a price tag of agitations and displacements, is massively inadequate, exposing a marked ignorance on the dominant subjects his film seeks to provoke.
The opening credit rolls point toward Parvin's splendid sense of music though in imagery it recalls the works of Dibakar Banerjee, a filmmaker from whom Parvin seem to draw heavily. Shortly thereafter, it abandons its Dibakar touch for the Ram Gopal Varma terrain of scruffy gangsters and quirky characters with nicknames to match. They even have their very own
Kallu mama
moment, minus the magical madness of that
Satya
number. On second thoughts,
Sahi Dhandhe Galat Bande
also owes its existence to another zany, wicked world of contract killers and political fixers of Sudhir Mishra's
Yeh Saali Zindagi
.
The narrative here, like
Yeh Saali Zindagi
, is woven around multiple characters whose motivations the viewer can pre-empt
unlike in the latter which builds a sense of intrigue as it moves along. Rajbir (Parvin) and his three hop-alongs work for Fauji (Sharat Saxena), an ex-army man angling for a seat in the upcoming election. Rajbir has grown up in the village and is close to his land and people, emphasised through flashbacks of bucolic splendour and a fulfilling and ideal life squandered away by his father's imprudence. When the government announces that a factory is to come up at their farmlands, a reluctant Rajbir enters the fray, agitates and uses the power of the media to guide his side to a cakewalk victory.
Parvin's handling of a potentially relevant subject-matter gives away his inexperience, particularly his immaturity in writing. This is one of those films in which the themes resonate perfectly but are executed with the flawed flair of a child. There are moments here in which you simply can't repress a grin -- so embarrassingly infantile are they.  Striving for edginess and humour, Parvin's script abandons its holistic sense only to descend into an unjustified display of personal triumph and moral courage. The result of which is that the actors are given a short shrift and that's why although they appear to be mediocre non-professionals one still can't pin the blame on them.  
Sahi Dhandhe Galat Bande
, on its own merit, blends the moodiness of
Yeh Saali Zindagi
and visuals of
Khosla Ka Ghosla
, a film that Parvin acted in but wish had picked a few chops from.   
It must, however, be reiterated that Parvin demonstrates a conscientious social-realist side to him and takes a stand -- that injustice won't be tolerated. For the same reasons, let's not judge him on the basis on this one film alone.
Rediff Rating: