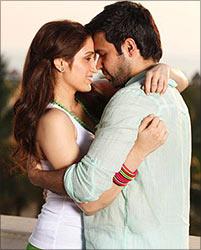 Why can't filmmakers, who make movies on the media, get their basic facts right, asks Rohit Khilnani, in his review of Rush.

Quite a few filmmakers seem to be fascinated by the television media business. But whether it was the Amitabh Bachchan starrer Rann or Emraan Hashmi's latest film Rush, none of them even get their basic facts right.

In Rush, cops walk into a news channel office and get hold of a reporter in the canteen and abuse him because he refuses to give them the information of a sharpshooter who he recently interviewed. Have we ever heard of police walking into news channels and abusing and insulting reporters?

Samar Grover (Emraan Hashmi) is a crime reporter, who is asked to leave his news channel Pulse 365 because of his big expose, an interview with a sharp shooter that has caused some trouble with the investors of the news channel.

He is soon hired by media tycoon Lisa (Neha Dhupia) of another channel Crime 24, who offers him a high salary, a car and the post of the Editor-in-Chief of the channel. Crime 24 is owned by Roger Khanna (Aditya Pancholi), who believes 'Bad News is Good News'.

From his lifestyle and working style, soon it gets clear that Khanna is not a straight guy, he is only using Samar to achieve his personal goals.
To get high TRPs, Khanna has installed some gadgets inside the news channel office which tap the phones of the police, no less! And that's how Crime 24 gets the news before everyone else.
Clearly no one told the makers that there are a few things that channels in India cannot and do not do, whether for TRPs or business. Grover, who is the editor of a crime channel, is also seen endorsing food products.
Emraan Hashmi plays his part with honesty but it doesn't look like his contribution will save this film. After a series of hits and critically acclaimed roles this one will do no good to Hashmis' rising career. 
Neha Dhupia looks pretty and does her bit.
The rest of the actors are wasted.
The shooting style in a lot of scenes and even the songs with spot lights on actors gives the feel of the 1980s cinema.
We cannot recommend Rush.
Rediff Rating: