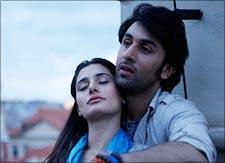 Ranbir Kapoor's new film is a love story that tries to pose as an insight into an artiste's anguish, feels Sumit Bhattacharya.
Director Imtiaz Ali's new film
Rockstar
has two heroes: Ranbir Kapoor, and A R Rahman.
Kapoor, who many believe is Bollywood's next big Kapoor, delivers an impressive performance, portraying with aplomb the buffoonish Janardhan Jhakar, who no one takes seriously, and the grim 'rock star' Jordan who Janardhan becomes.

And Rahman goes on overdrive with a background score that lifts the film with every dive bomb (presumably by woman shred guitar star Orianthi, who you can see perform with Michael Jackson on the This is It documentary, and who has played on Rockstar's song Sadda Haq).

The film is beautifully shot in wonderful locales, and pleasing to the ear too. Prague, one presumes, will soon be inundated with more Indian tourists following in Ranbir and Nargis Fakhri's footsteps.

Apart from the standout background score, Rahman's songs, as usual, take on new life with the visuals. Nargis -- who, to borrow Janardhan's words, looks superhot and supercool -- and Ranbir glow in their scenes together. The dialogue is funny (Bugger off, she says. Burger off? He wonders). Some scenes are hilarious.

But don't let the title fool you. This movie is more an old-school Bollywood love story than the advent of heavy metal in Hindi cinema. Jordan is more like Devdas than his idol Jim Morrison.

On the surface, the film is about a guitar-toting dimwit transforming into an angry 'rock star', an expression that can perhaps give 'awesome' a run for being the most misused term in the English language (my boss sarcastically calls me rock star because I play guitar). But this film is devoid of any insight into an artiste's anguish, try as it might by quoting Jalaluddin Rumi.

There are shades of Jab We Met, in the sense that the first half is full of light-hearted moments between an unlikely pair (in this case Janardhan and Heera Kaul, played by Nargis) and that the second half is intense, with twists.

The film opens with Jordan making a true rock star entrance -- after a fight -- in a stadium concert in Prague. But why is Jordan, who has giant billboards in Eastern European countries and the following of a, say, Mahendra Singh Dhoni in India, so grim? What's his problem? That's what you will find out if you go see the movie.


The first half is full of promise; the gags are funny as you follow the lovably foolish Delhi college kid Janardhan Jhakar as he attempts to be the Robert Plant of Pitampura and goes out on secret excursions of all things taboo with his sophisticated, rich college mate Heera. Heera is getting married off to Prague soon, and she has a list of wild things she wants to try: Drinking desi alcohol, watching B-grade porn in seedy theatre halls, etcetera. Nice.

But the realism disappears before you can say Sadda Haq.

Janardhan becomes Jordan, a 'rock star' unlike this country has yet seen. (If you disagree, please show me a TV 'breaking news' clip about a non-film musician's love life, or paparazzi hounding any such musician with the regularity and alacrity as those in the film do to Jordan, or any front-page report about a non-film musician.)

The trigger is, of course, a broken heart, and a set of circumstances that are weird, if not bizarre.

I don't want to burden you too much with plot giveaways, but there really is no way a kid thrown out of his house and taking refuge in Nizamuddin Dargah can suddenly start playing a Gibson guitar, which costs anything upwards of Rs 50,000.

Such trivial problems with reality generally do not burden Bollywood films. But this one tries hard to be real and deep -- including lampooning the media, and with Kashmiris shouting Sadda Haq and blurred-out-by-Censor-Board Free Tibet posters -- and falls flat.

It tries to pose as an insight into an artiste's anguish, when it's just a candyfloss romance that even takes the drugs out of a film about a dark star.

What work are the performances. The characters are portrayed with care, and the late Shammi Kapoor plays a shehnai great who spots Janardhan's talent. Many will find sentimental value in the jam scene between him and his great nephew.

Die-hard romantics will find a lot to mush over. A fellow reviewer spotted a couple of teenagers at the Mumbai press show weeping buckets.

Many will swoon over Nargis, and the fairer sex will find Ranbir's transformation irresistible, and forgive the fact that his fingers don't move at all like someone who has been playing the guitar since childhood.

Or that throughout the movie he plays variety of gorgeous electric guitars without a cable -- or a wireless device -- attached to any of them. That's like trying to drive a car without fuel.

Again, that amounts to nitpicking in Bollywood, but in a movie that takes care to show the guitarist's pedal board, Fender amplifiers and the singer's in-ear stage monitors, that is just funny.

In a country obsessed with watching some movie or the other every weekend (that's what people do, right? Go to malls and/or watch a film), Rockstar is what is called a one-time watch.

Just don't expect too much.

Rediff Rating:



Also Read: Review: Rockstar is flawed but fabulous

                     How did Raja Sen rate Rockstar?