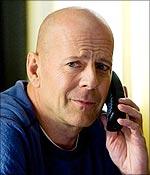 Elvis D Silva reviews Red. Post YOUR reviews here!

Bruce Willis has turned his lack of facial expressions into a strength. And I say this as someone who thoroughly enjoyed the first three Die Hard movies, his performance in Unbreakable as well as his work in the Moonlighting TV series.

So would I buy that this fit, bald man is an ex-CIA operative who lives out his retirement in a quiet neighbourhood where his is the only home not decorated for Christmas? Yes. I most certainly would.

So the movie Red begins by showing us the humdrum life of Frank Moses (Willis), living through his days of quiet routine while looking forward to his telephonic conversations with Sarah Ross (Mary-Louise Parker) a woman he calls periodically to chat about a make-believe grievance he has. So far, so boringly conventional.

Until the one night he is awoken by the sensed presence of masked intruders in his home -- men with big scary guns sent to kill him. This is a Hollywood action movie so of course the men don't succeed, Moses goes on the run and is pursued by a 'black suit, black car, black tie' type of dude (Karl Urban) who may very well be the person now doing Moses's old job.

Moses begins journeying around America trying to reconnect with old associates like Marvin Boggs (John Malkovich), Joe Matheson (Morgan Freeman), Victoria (Helen Mirren) and an old adversary Ivan Simanov (Brian Cox) -- all so they can find out why retired agents have been targeted for extermination. See the title of the movie is an acronym for Retired, Extremely Dangerous.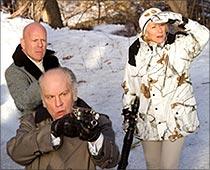 As is the case in movies like this, things blow up, people get shot at, property is destroyed and human interactions are limited to dry verbal exchanges fashioned like duels of a different kind.

Of the cast, it is clear that Freeman, Mirren and Cox enjoyed being cast as violent badasses permitted to behave as badly as possible. Willis sticks to the performance tenor he knows best, which is to say that he remains mostly inexpressive and fires a lot of weapons.

Red is the epitome of the movie definition of 'time pass'. It doesn't take itself seriously and it doesn't offer anything new in terms of content, ideas or conspiracy theories.
The sound effects are muscular, the leading men and women are feisty, and if you're just interested in watching a bunch of veterans take one last shot at being action heroes and heroines, this movie might offer a mildly entertaining diversion.
Rediff Rating: