'Don't let anybody tell you that Kadvi Hawa is a manifesto for the fight against climate change or that it's an austere, unforgiving, movie.'
'This is an intensely felt, beautifully expressed, piece of cinema,' says Sreehari Nair.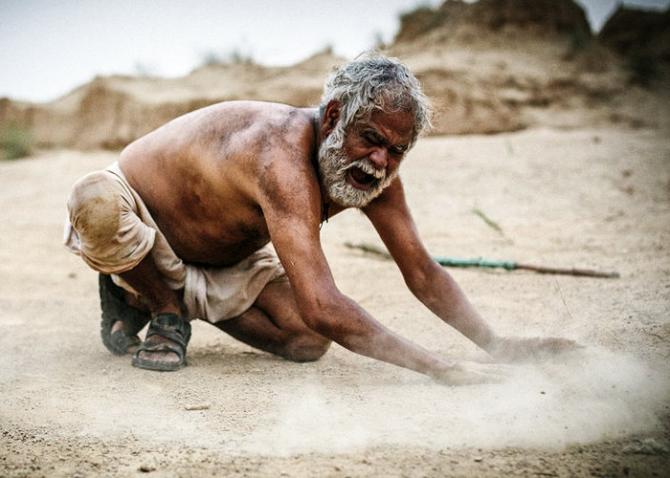 I jolted up in my seat when Ranvir Shorey, casually, and completely in character, uttered, what I think is the greatest line ever said at the movies: Jean Renoir's 'Everybody has their reasons.'
Shorey says it in Nila Madhab Panda's Kadvi Hawa, sitting atop a ravine in Mahua village, miles away from the aristocratic wasteland of Renoir's.
And that line becomes the spirit and the driving force of this film that overwhelms you and leaves you not quite the same.
To Shorey, an ambitious debt collector in his small rural bank (The villagers call him the 'God of Death', a nickname he's partly proud of), and to Sanjay Mishra, who plays a blind graybeard concerned about his farmer-son's mounting debts, the sandy ravine has turned into a virtual office.
They have a secret deal to forge and they make small talk before getting on with it.
When Shorey reveals he's from Odisha, Mishra lights up. 'With water everywhere, the place must feel like heaven.'
It has not rained for two years in Mahua and Mishra's enthusiasm is understandable.
But Shorey detests the place he's from, and he has his reasons!
His native land in Odisha is prone to incessant flooding (he has a mother who has waited patiently for years on the banks of the river that consumed his father).
It's the barren Mahua that feels like heaven to him.
'Have to bring my family here before the next rains,' he states.
Ostensibly, both these characters are victims of climate change, but don't let anybody tell you that Kadvi Hawa is a manifesto for the fight against climate change or that it's an austere, unforgiving, movie.
This is an intensely felt, beautifully expressed, sustained piece of cinema.
Kadvi Hawa has concerns and issues to raise, but they are so powerfully dramatised that even Gulzar's poetry about climate change may seem a tad square, too narrow a summation for the film's scale of attack.
Director Madhab Panda almost magically humanises everything he photographs; when a clerk at the rural bank sits in his office chair with no shirt and just his banian on, the rickety, airless office seems to shout out: 'Even he has his reasons!'
It is a dog eat dog world of unfed dogs that the director sets his characters in. But the movie doesn't elegise: It has a hallucinogenic-romantic vision, a languorous-seductive flow, and Panda has a wonderful, offhand, way of suggesting life's brutal ironies.
A schoolgirl is whisked away from a classroom and she enthusiastically says 'Bye!' to her friend on her way out.
Later, it is disclosed the girl's father has committed suicide (which is why she was called out) and the image of this schoolgirl saying 'Bye' comes rushing back to us.
When Sanjay Mishra tumbles in his courtyard, upon hearing news of his son not having come home, a child's naked doll lies beside his prostrate figure.
When the blind Mishra walks the barren land of Mahua, it feels as though he is having an out-of-body travel experience.
Panda has fleshed out his characters so that they are never once presenting to us proofs of their virtues, but we still discern what their virtues and foibles exactly are.
Plus, the director gives his actors such freedom to create the rhythm of their characters that they appear motored by the natural momentum that life is giving them.
Shorey's Moped, for instance, seems like it is driving him!
Tillotama Shome, playing Sanjay Mishra's daughter-in-law, pauses to take in her domestic frustrations and then uses all those frustrations to roll her chapatti s.
There is perhaps no Indian actress who can, so economically and so directly, articulate the conflicts brewing inside her and if in Hindi Medium we saw a Shome who flashed her pearly every time something didn't fit her 'taste', in Kadvi Hawa, her lips hardly part.
Shome plays a wife here, living in a village of men with suicide on their minds, and she fears for the worst while not saying a word about it.
But the power of her silent actions reaches us; and when she douses the fire in her earthen kitchen, it signals the end of day.
Watch out for the sequences when the action in her household comes to a stop the moment her husband (Mukund) hush-hushes with a friend or with a news-bearer (another day, another suicide).
Mishra gets up from his bed and listens intently and Shome, with hands on her waist, strains her ear in the direction of the hushed voices.
Sure there is a tragedy looming large, but Panda conveys it to us wordlessly, through the pall of silence that breaks through everyday pitter-patter.
The subject of Kadvi Hawa is man's spreading of his nature-destroying sickness but there is not one moment of forced impressionism here.
Antlers and goats materialise in the grainy frames and the men and women all look as though they have emerged from the earth, shaped by nature.
These are people dedicating so much of their energy to the sheer process of staying alive that they have no time for idletalk.
A plump chap has turned his bike into an effective schoolbus for five -- Madhab Panda captures the ferocity in these everyday lives with such matter-of-factness that the images keep coming back to you hours and days after you have first seen them.
Kadvi Hawa also offers Sanjay Mishra the ideal setting to perfect his Caged Man Actor's Art.
And it is to Mishra's and Madhab Panda's credit that the character doesn't turn into a Noble Savage (in the hands of a lesser actor that would have been the interpretation).
Mishra's character has nothing to say to his son Mukund (he's blind, but their eyes still don't meet). But everything he does, every travel he undertakes, he does so to prevent his son's impending suicide.
This outrageous fear may feel comical (in this, the movie bears passing resemblance to Gabhricha Paus), but look closely and it becomes an expression for life far removed from our own.
And despite the distance it provides, this comic apprehension becomes a reference to our own deepest loves.
For haven't we all shuddered, sometime or the other, at the mere thought of our parents' death or the death of our lovers -- haven't we, in our heads, tried to count the ways in which their deaths might occur and then immediately tried to blank out each of those possibilities?
If you aren't careful enough, such counting can become your favourite pastime, and before you know, your obsession.
To Mishra, thwarting his son's suicide becomes an obsession. And so he hatches a negotiation with Shorey's debt collector character.
His pitch: Every time cash flows into any villager's home, he will inform Shorey about it.
'In return, you stay away from my son.'
When he comes to know from his grand-daughter that Basant, a fellow villager, has bought new clothes for his daughter, he promptly informs Shorey.
'The trick here is to visit Basant and ask him to pay up when he is doing his morning pooja; for that's the only time he doesn't lie,' informs Mishra.
That information proves valuable and it sets off a deal and before we know Mishra's life has discovered a sense of purpose.
But Kadvi Hawa is not a story about a character's search for dignity -- that'd be too easy -- and Mishra's character is a real person and not a plot-device.
If he can find his way through dangerous ravines all by himself, he also has personal markers for self-respect and conscience.
In a scene which has him tailing his son, the old man sits drinking from a packet of water, and someone throws a coin at him. 'Hey, I am no beggar!' he shouts back.
And when, finally, his son doesn't come home, he links his disappearance to his own corruption, stating in effect that Mukund is paying for the sins of his father.
This is a man who commits a minor transgression, and for his only son, but can't forgive himself for it.
And so, striding through the sand, he becomes a saint-like figure in our minds.
His deadpan walking reminds us of the small pleasures he once enjoyed, of how he'd share his personal secrets with his buffalo, Annapurna; his bickering with his grand-daughter; and above all, his musings about the wind -- the wind which is his link to lost time, a reminder of the fragrance it once brought, and the sickness it now spreads.
If Mishra's character is his own man, the Shorey character is perhaps the director's vision of us and of himself.
And by not denying this character his personal tragedy, Nila Madhab Panda makes Kadvi Hawa remote and at the same time, intimate.
Shorey sifts through news channels as a bulletin proudly announces that India would be importing Videshi Dal -- someday that very news channel would make out of him, a trembling man.
He plays with his lathi ever so slightly when Mishra tells him his story.
Ranvir Shorey is an actor's actor and his attempts at improvisations tend to be either inspiring or terribly maddening.
Here, granted sufficient distance from himself, and playing off the peerless Sanjay Mishra, Shorey sketches out a character who wants to do the right thing, but who still has one eye cocked in the direction of that 'double commission' that his bank is waving out in front of him.;
In one of the closing scenes, after Mishra has backed out of the banker's plan, Shorey bellows: 'Will tell the villagers it was you...' he starts off, but aborts his sentence midway.
He knows the old man too well by then to complete his threat.
There's something deeply exploitative about message movies that lay on their messages too thick. For these movies merely tap into our rush for judgment than increase our depth of understanding.
This is probably why a genre movie may often hold more personal meaning for us than these pat, well-packaged, syrups.
And this is why Kadvi Hawa is a rarity.
It's a movie that shows us the dangerous consequences of 'Climate Change', but shakes off our jargon-filled arrogances by placing its story among a set of people who have never possibly even heard that term.
There is no sound of protest to draw us in here, only a deathly hum.
The film begins with a tight shot of Sanjay Mishra walking, as he grumbles and mutters what sounds like a prayer.
In the final scene, after a calamity has befallen Ranvir Shorey's character, and as he desperately attempts to make a call, a prayer forms on his lips.
Kadvi Hawa is intended to be a wake-up call, but look closely and it is also a chant.
Rediff Rating: