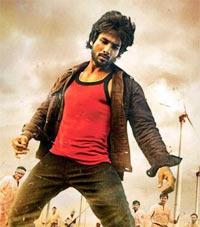 Paloma Sharma feels R... Rajkumar is entertaining only in bits.

Prabhu Deva's latest directorial venture -- R... Rajkumar -- opens with extensive, unnecessary titles set to grotesquely loud music, leaving you with little patience as you wait for the film to start.

The film's introduction includes guns, politics, opium-farming and Sonakshi Sinha, which may instantly remind one of last week's release Bullett Raja.

Romeo Rajkumar (Shahid Kapoor) is a mysterious young man who lands up at the doorsteps of a powerful drug baron called Shivraj (Sonu Sood) seeking employment.

Rajkumar constantly proves his loyalty to his boss by eliminating Shivraj's rival Manik Parmar's men, until fate deals him an unfair hand -- both he and Shivraj fall in love with the same girl -- Chanda (Sonakshi Sinha), who also happens to be Parmar's niece.

How convenient!

R... Rajkumar is characterised by the most absurd camera angles. The relentless close-ups are similar to those from Ekta Kapoor's many melodramatic television shows.

The director's vision for the film is centered around proving to the audience that Rajkumar is a real (macho) man and pursues it more aggressively than the viewer would have liked.

The entire film is a series of attempts by Rajkumar and Shivraj at one-upping each other -- while Rajkumar refuses to whisk away lady love Chanda from her abusive uncle and fiance because he's a (you guessed it) mard (real man), Shivraj keeps her captive so that he can woo her like a (that's right) mard.

Sonakshi Sinha's Chanda brings both the men at loggerheads but kissing Rajkumar and crying for him is all she does in the film.


Sonu Sood is back in a negative role after his turn in Dabangg was widely appreciated.

Leading man Shahid plays the quintessential small-town stalker who follows around his lady love and calls her his "lollipop". He may be a great dancer but it is hard to see him as Rajkumar, especially during the fight sequences that drag on for far too long.

Also, there are things about this film that you just don't get:

1. Rajkumar and his buddy dress up as women, wear saris and wigs but don't shave. 2. Sonakshi notices Shahid's tattoo on his wrist, in the dark and in the middle of gunfire. Incidentally, she remembers the tattoo later on.

3. At least 10 minutes of the film's runtime are dedicated to a drenched Sonakshi Sinha emerging from water or Sonu Sood's naked torso.

R... Rajkumar has some catchy tunes with beats that capture the essence of the film such as Sari ke Falls sa. However, the music isn't at par with Pritam's previous works.
The film begins pretty well and Shahid entertains in bits but there's only so much he can do to make this kind of stuff work.

Rediff Rating: