If you happen to like this film, I have to assume there's something seriously wrong with your idea of a journey, says Sreehari Nair.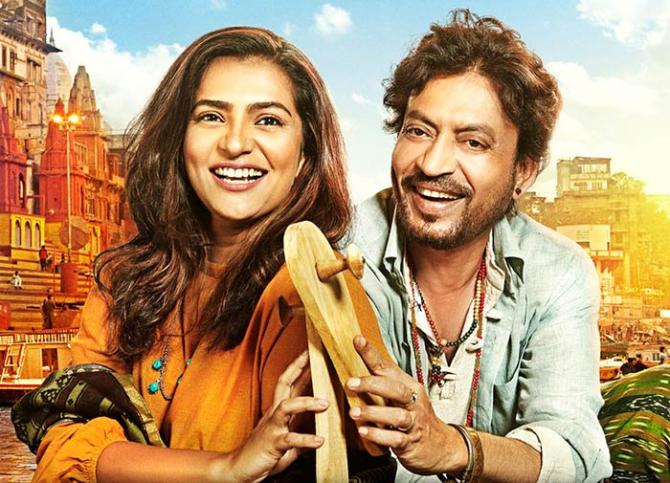 In Qarib Qarib Singlle, the camera starts out mimicking the nervousness of the movie's lead character, Jaya (played by Parvathy).
Aside from the constant hopping, there are times when the camera zooms into Jaya as she lets us in on her inhibitions. (Critics who get excited just uttering the word Meta may classify these as instances of fourth wall breaking, but I'll hold my tongue.)
Be warned though: if the amount of Camera Fidgetiness on display here does bother you, you may be in for a worse time than I was. For the nervous camera of Qarib Qarib Singlle is just about the only source of energy in this drab travel movie.
This is a film where pointlessness is freighted over two flights, one vintage train ride, one regular train ride and a series of cab drives.
After hours of dilly-dallying on a loop, the obnoxious and germophobe Jaya, and the obnoxious but pure-at-heart Yogi (Irrfan Khan), become a couple inside a cable car. By then, you are ready to snap the cable.
The subject of Qarib Qarib demanded a director with a natural talent for informality and offhandedness. Which is why Tanuja Chandra may strike you as a curious choice.
And Chandra, still working from of an era when Mahesh Bhatt was considered 'realistic,' goes ahead and confirms your worst fears. Her solemnity is so impersonal and such a put-on that even her characters's laughter hit you like notes of apology.
The basic reason for using travel in a movie is to pack in density; travel gives movies -- ones that use travel well -- ready backdrops for it to appear borrowed from life.
This one, however, is content being a Chamber Drama on Wheels!
In the exterior shots, Tanuja Chandra mutes out the natural sounds and inserts in their place template musical notes of sudden life-affirmation, folksy-rock and just about any beat that can insulate you from the natural setting and tell you 'precisely' what to think.
In parallel, Chandra teams up with Gazal Dhaliwal (the frigid pen behind such titles as Wazir, Lipstick Under My Burkha) and turns this into a movie with no curiosity for anybody other than Jaya or Yogi.
There's something achingly undemocratic and irksome about the way every single subsidiary character here is written, developed and presented.
For instance, there's Jaya's colleague who thinks about nothing beyond the lack of men in Jaya's life (you even get the feeling that it may be turning her on to recount Jaya's misery!).
The parlour owner (Navneet Nishan) has only Jaya's schedule on her mind.
Plus, there are Yogi's ex-girlfriends, whose lives totally pause when Yogi arrives in their courtyards.
And as much as you can call all that really, really poor world-building, one's compelled to ask: If there's indeed no character that Chandra and Dhaliwal can conceive of beyond Yogi and Jaya, why couldn't they make at least them interesting? For these are about the biggest dullards you would meet in your life and the movie is two hours of them journeying together.
Yogi is a self-styled poet who lives a Cosmo Kramer-like existence (he gets royalty for suggesting weird taste combos to food companies).
As played by Irrfan Khan, the character is yet another variation of the Uncouth Savant model; and if it was inventive in Piku, and serviceable in Hindi Medium, it just doesn't come together here.
The dimply genius who breaks away from chivalry to mumble his frustrations has been reduced to a shtick, a mere character-type. What Irrfan had was gold, only he seems to have gilded it too much, movie after movie. And now, every time he looks away from the camera, you can sense that he wants you to like him very badly.
Parvathy as Jaya has a role that ranges from desperately trying to 'feel,' to desperately trying to be good, to, finally, desperately shrieking out for kindness.
While Parvathy is, doubtless, a very fluid actress, a sense of sanctimony has crept into her style of late.
In Martin Prakkat's Charlie, it was her performance, full of faint transitions, that held the overwrought narrative together. Her turn as Tessa there was an act of constant discovery, of reacting to the mystery of each moment and she appeared in the climax of that picture looking like an absolute goddess (I know girls who told me that she fitted their idea of the 'dream date' there).
It was, however, her last Malayalam picture, Take-Off -- in which she appeared consciously loused up, with puffy eyes and practised Malayalam-ised English -- that took the edge off this fine actress and recalibrated her acting dharma, all not for the good.
Here, in Qarib Qarib Singlle, she plays a widow, but the self-righteousness in her tone is so overpowering that it can lead you to guess: 'Maybe this is what killed her husband!'
Her Jaya is a character that arouses zero sympathy, only snarkiness and irritation.
What is she shrieking for here? Who's she trying to defy?
There are no variations in the flatness in her voice; it's not a voice to purr with contentment, but the voice of someone who has worked out the Rights and Wrongs of this world and who now deflects all surprises.
Except for the first 20 minutes, which is about Jaya and Yogi meeting through a dating website, and in which men with bad taste and manners are made fun of, the rest of the movie is about Tanuja Chandra trying to bring these two dreary characters together over a trip to Rishikesh, Bikaner and Gangtok.
Throughout the trip, they keep coming together and drifting apart, both literally and figuratively, before Chandra and Dhaliwal finally say, 'Okay, you've tortured each other enough to deserve a life together.'
Jaya loses a part of her ego; Yogi learns some lessons in good housekeeping; and I greyed at the temples, just a little.
In the middle of all this, Neha Dhupia appears as the 'customary hottie' who takes a sniff off Irrfan's poetic shirt and walks away.
Isha Sharvani appears as the 'customary practitioner of modern-dance' (thankfully, she doesn't hang by a rope this time!).
And Tanuja Chandra stages a scene of river-rafting worse than those Mountain Dew commercials.
And, through all that, we are never shown or communicated what in each of them the other finds repulsive or attractive at different points.
In a moment of Zoya Akhtar-grade subtlety, Yogi sings Bade ache lagte hain and when he gets to Magar sache lagte hain, the camera tightens on Jaya's face, as if to suggest that she gets the message: 'I love you despite all your imperfections.'
A square moment, but we at least have something!
But she soon returns to being insufferable and he keeps mumbling poetry when he ought to be talking straight prose and the relevance of that song is gone.
Also, this is such a humourless film (unless your idea of humour is Irrfan's totally misplaced sarcasm at various junctures) that I was left to fend for my own laughs.
At a certain point, Yogi asks Jaya to enjoy mangoes by sucking it in and I theorised, 'Maybe that's him guiding her to Third Base.'
Later, he sticks a pamphlet through her door edge and I thought to myself, 'Maybe that's a metaphor for Home Run.'
You see, it's a Bring Your Own Jokes kind of movie!
It's mildly offensive when moviemakers try to manufacture 'character arcs' and 'character growth-patterns' for the sake of narrative smoothness.
But, at least in such movies, we can see the numerous compromises and the ambivalences that happened during their making, and our sense of these compromises helps us foster a contact with these movies.
In movies like Qarib Qarib Singlle, we don't even get that sort of pleasure, only a deadness that never goes away.
If you happen to like this film, I have to assume there's something seriously wrong with your idea of a journey.

Rediff Rating: