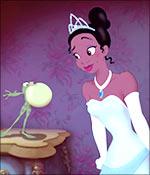 Gorgeous hand-drawn animation, soaring voices (especially that of the Broadway's Tony winner Anika Noni Rose) and most importantly, a uplifting and funny story, make The Princess And The Frog one of the most audience-friendly films of the year.
The Disney movie, which also gives the traditional fairy tale a twist, is lead by an African American cast. It is getting much praise from the critics and offers this line in the voice of a voodoo princess: The only thing important is what's under the skin.
It has been showing in just two theatres in America and yet, has grossed a stupendous $280,000 in 12 days. From Friday, it will play on some 4,500 screens. Veteran directors Ron Clements and John Musker (The Little Mermaid, Aladdin), who have added a feather to their illustrious careers with this film, can look forward to huge box office collections. Hollywood insiders believe that the film could become one of the most profitable films for Disney, and could top the $700 million plus (projected) gross for its Up.
Audiences and critics in New York and Los Angeles are also elated by the musical score by veteran Randy Newman (Cars, Toy Story) whose melodies such as Almost There, Friends on the Other Side and When We're Human add up to the film's appeal.
Major reviewers have hailed the film for its old fashioned but awesome look and for not using celebrity voices, except for Oprah. Though Noni Rose, the film's African-American heroine and a Disney animation first, made a terrific impact on Broadway in the musical Caroline, Change, she is no Sandra Bullock or Julia Roberts.
'The filmmakers trust in story over special effects, and character over celebrity voices (there are almost none here, save for a brief cameo by queen-of-all-she-surveys Oprah Winfrey as Tiana's saintly mother, Eudora),' wrote Entertainment Weekly.
Set in the New Orleans of the famous 1930s, it centres on Tiana (Noni Rose), a hardworking and feisty worker at a restaurant who has her own dreams of starting her restaurant in the fabled French Quarters of the city. Her dream is strong for another reason: her late father (Terrence Howard) wanted to start his own restaurant too.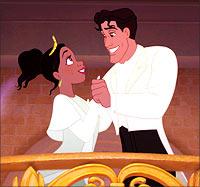 Her friend Charlotte (Jennifer Cody) wants her to dream about a handsome prince but Tina believes she is earthbound and wants her hard work do the magic for her. Even her mother (Oprah Winfrey) feels that Tiana cannot find romance.
Unknown to Tiana, the jazz-loving Prince Naveen of Maldonia (Bruno Campos), whose fight with his parents has brought him to New Orleans in search of a moneyed bride, is turned into a frog by a witch doctor (Keith David) who covets whatever royal privileges the alien prince still has.
When Tiana meets the frog prince and gives him a kiss, the unexpected happens. Unlike in the traditional story, he doesn't turn into a human, while Tiana is turned into a frog.
The two frogs are on the run, looking for someone who could turn them into humans. Their flight across the bayou region gives the film a terrific look and a dose of romantic adventure.
What comes next is full of fun, complications and heart-tugging moments.
We have seen a number of films driven by technology, especially 2012, doing huge business, with this particular film headed for $700 million worldwide gross. The holiday season, as is the tradition, will be full of movies that will be working hard to earn the big bucks. While James Cameron's Avatar is expected to be one of the biggest hits of the year, one should not be surprised if Princess And The Frog is close behind it.
Rediff Rating: