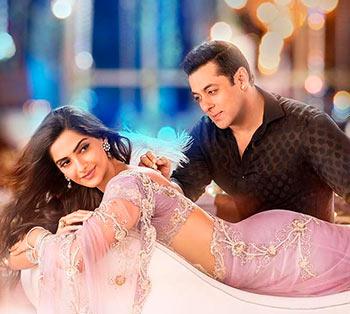 The music of Prem Ratan Dhan Payo is well done, and seems to be exactly what the filmmaker ordered, writes Aelina Kapoor.
Composer Himesh Reshammiya and lyricist Irshad Kamil seem to have stuck to their brief for Sooraj Barjatya's Prem Ratan Dhan Payo.
The soundtrack has a strong traditional flavour, have a 'paarivaarik' feel and is very feelgood!
The moment Aman Trikha begins his rather vociferous rendition for Prem Leela, you know that the film had planned the music to time with the Dusshehra-Diwali festivities.
With a Ram Leela premise to it, this fun number has Vineet Singh giving good company to Aman.
For the title song Prem Ratan Dhan Payo, singer Palak Muchhal does what Alka Yagnik did in the 1990s and Shreya Ghoshal did in the 2000s. Boasting of saccharine vocals, Palak does well in this lovely number.
Love song Jalte Diye comes next with Harshdeep Kaur kick-starting the proceedings and Anweshaa, Vineet Singh and Shabab Sabri taking it further. While it sounds well when it plays, there isn't a recollect value. It just about passes muster.
What you do remember is Shaan's lovely rendition of Aaj Unse Milna Hai.
This one has it all -- the Rajshri brand of lyrics (you can't ignore the food references right through the song), the sound of saxophone, the assembly line of uncle-aunties that would emerge from all over... Shaan makes good use of the opportunity and delivers a fantastic number for Salman Khan.
Since Murli Ki Taanon Si is one of the better numbers in the album, it arrives twice -- first as a solo by Shaan and then with portions of Prem Ratan Dhan Payo interspersed in the song, where Aishwarya Majumdar, Palak Muchhal and Shaan come together.
Palak Muchhal returns with an old fashioned love song called Jab Tum Chaho and this time, she sounds distinctly different from the title song. She makes this romantic number pretty much her own and even though singers like Mohammed Irfan and Darshan Raval feature as well, it is Palak's voice that one remembers.
Aman Trikha returns with Halo Re, yet another number that combines festivities with love and romance. It is a quintessential Rajshri song, and sounds too old fashioned. One wonders how Salman would carry this in the film. As a composition though, it is decent.
Old fashioned music continues to make its presence felt with Tod Tadaiyya. This time, Neeraj Shridhar and Neeti Mohan come on board and deliver a fun, playful number. This is an upbeat number with high energy.
Just when you wonder why Himesh Reshammiya has not belted out a number yet, he gives us Bachpan Kahan. A situational song.
The music of Prem Ratan Dhan Payo is well done, and seems to be exactly what the filmmaker ordered.
Rediff Rating: