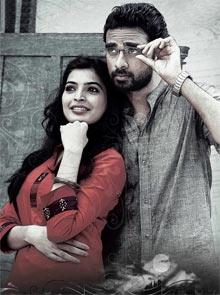 Tamil film Pizza 2-Villa is a well-written film, according to S Saraswathi.

Short filmmaker and finalist of the popular reality TV show, Nalaya Iyakunar, Deepan Chakravarthy graduates to mainstream cinema with Pizza 2-Villa.

Studio Green and C V Kumar of Thiru Kumaran Entertainments, who produced the huge blockbusters Pizza and Soodhu Kavvum, jointly produce the film.

Pizza 2-Villa has Ashok Selvan and Sanchitha Shetty playing the lead along with Nasser and S J Surya in significant roles.

There was much speculation about the film being a sequel to Pizza, which was one of the most original and acclaimed horror movies of recent years.

Besides the title, however, Pizza 2-Villa has absolutely no connection to that film; the name has been used as a franchise by the producer, who perhaps plans to release an entire Pizza series.

The story of Pizza 2-Villa revolves around a young writer, Jebin (Ashok Selvan), who has inherited a villa in Puducherry after his father Nasser's death. Aarthi (Sanchitha Shetty) a painter is his love interest.

Although Jebin wants to sell the villa, he moves in temporarily to write his second book.

He finds the house full of beautiful antique furniture and paintings. One particular painting, which seems like the blueprint of the house, leads him to a locked room,
where he finds still more paintings.
To his surprise, Jebin finds that the paintings tell a story, in sequence, which pretty much reflects his own life story, accurately predicting the events happening in his life and ending with his violent death. Jebin feels helpless and terrified as things continue to happen as predicted.
The suspense lies in whether he can escape the prophetic end.
Ashok Selvan and Sanchitha Shetty have turned in good performances. Nasser appears briefly and as usual has given a competent performance.
The film is deliberately slow-paced, unfolding gradually with nothing too creepy--no gory death scenes or disgusting supernatural creatures.
Santhosh Narayanan's music for the most part has the piano playing a haunting melody and an orchestra playing some wonderful music in the background.
Pizza 2-Villa
is not a traditional horror film; it is more of a gripping suspense thriller.
Full credit goes to the director for maintaining the suspense and keeping the audience engrossed until the very end.
The film has maintained its ambience throughout with excellent cinematography by Deepak Kumar Padhy, sleek editing by Leo John Paul and great music.
The only negative in the film would be the excessive scientific explanations provided to justify the supernatural happenings.
Pizza 2-Villa
is a welcome break from all the mushy romantic comedies that have been flooding the market this year.
Rediff Rating: