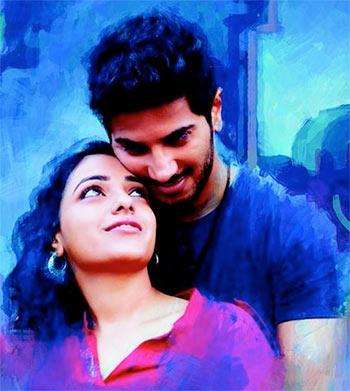 Director Mani Ratnam's O Kadhal Kanmani is a beautiful and sensitive tale of love filled with fun that warms your heart, says S Saraswathi.
Mani Ratnam's latest film O Kadhal Kanmani is a refreshing romantic comedy that brings back memories of the delightful chemistry between Karthik and Revathi in Mouna Raagam and the unforgettable Madhavan and Shalini in Alaipayuthey.
The film gives one a sense of déjà vu, especially the locations, like the ever-present railway station, a couple of song picturisations and lovable characters, who make you laugh as well as cry.
What makes the film so refreshing is the performance of the lead actors, Dulquer Salman and Nithya Menen.
With their distinctive Malayalam background, they add their special touch to the characterisation.
Dulquer gives a great performance, but Nithya steals the show. She looks gorgeous and manages to appear vulnerable, yet strong and independent too.
The film narrates two parallel tales of love.
Ganapathy (Prakash Raj) and his wife Bhavani (danser Leela Samson) are the happily married older couple, totally at ease with each other.
In complete contrast are Aadi (Dulquer) and Tara (Nithya), who are just getting to know each other.
Both are afraid of commitment and fear getting trapped in the humdrum of everyday life.
Aadi is a video games designer who wants to go the US and become as rich as Bill Gates. Tara wants to go to Paris to pursue her career in architecture.
Since they have different plans for their future, they decide to have a live-in relationship.
They move in with the older couple as paying guests. Slowly they begin to understand what it means to love and be loved.
The two stories complement each other beautifully. While one is tender and undemanding, the other is wrought with passion and insecurities.
The film explores a wide range of emotions, but doesn't get too melodramatic.
Both Prakash Raj as a sensitive and caring husband and Leela Samson as an Alzheimer's patient, are brilliant.
Mani Ratnam has roped in most of his old associates for the film.
Noted cinematographer P C Sreeram, who last worked with him 15 years ago in Alaipayuthey, makes a spectacular comeback.
His camera skilfully captures the essence of Mumbai, the exuberance and pain of the characters, and the wonderful play of light and colours in every frame.
A R Rahman has outdone himself once again. Both the background music and the songs are exhilarating and perfectly in sync with the narrative.
The simple dialogues that are the director's trademark, the unique narrative style, realistic characters, and excellent performances coupled with great music and stunning visuals make Mani Ratnam's O Kadhal Kanmani a must-watch.
Rediff Rating: