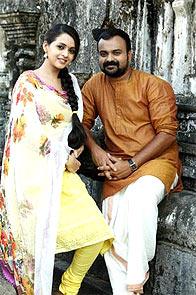 There is nothing new in Polutechnic and it is the effort the actors put in that helps the film from sinking totally, says Paresh C Palicha.
Kunchacko Boban wants to shed his college boy romantic image but he does not want to go beyond a point to do that.
In his new film Polytechnic, directed by M Padmakumar, he plays a small-time politician called Poly.
The story by Nishad Koya begins as a satire showing how lazy youngsters join political movements and do not make any effort to find any employment.
The mischievous Poly is one such. His childhood sweetheart and girlfriend Ashwathi (Bhavana) has become a police officer. Her father Krishnan Nair (Vijayraghavan) is opposed to their relationship as Poly is his political rival.
Then, Poly's father who is a military man is killed in a terrorist attack and Poly gets Rs 30 lakh as compensation. He buys a local factory that was shut down long back due to union problems.
Then his real problems begin as he faces roadblocks even before the factory is formally inaugurated. Poly and his sidekick Backer (Aju Varghese) spend time in jail just because they are not ready to bribe people to get things done.
But he manages to avenge the insults in typical 'new gen' style.
There is nothing new in the film and it is the effort the actors put in that helps the film from sinking totally.
Kunchacko Boban tries hard to make us believe that Poly is a new and original character. Aju Varghese stands tall besides him infusing humour wherever necessary.
Vijayraghavan tries to fill the space vacated by an actor like Jagathi Sreekumar, but those shoes are too big for him to fill.
Bhavana looks very distinct in the police uniform and she carries it surprisingly well. Hareesh Peradi gets a role that feels very similar to what he did in Left Right Left.
How we wish that these people had something more original to work with.
Rediff Rating: