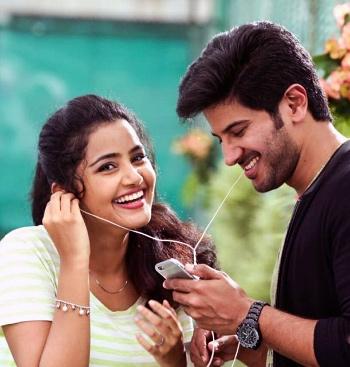 Director Sathyan Anthikad sticks to formula in Jomonte Suvisheshangal, feels Paresh C Palicha
Sathyan Anthikad gives us Jomonte Suvisheshangal, starring Dulquer Salmaan, where he sticks to formula, working with a team he has worked with before. But in the end, it leaves you unsatisfied/
Jomon (Dulquer Salmaan) is a rich spoilt brat, who is irresponsible to extent that does not attend his sister's wedding because he is held up by cops for drunken driving the night before.
His father Vincent (Mukesh) has come up in life the hard way and has made something out of his other children, and they have respectable professions. But he cannot do anything about his youngest son Jomon, who has been trying to finish his MBA for the last five years.
Yet, Jomon remains his father's favourite.
Catherine (Anupama Parameswaran) enters Jomon's life and we expect the story to head towards a full blown romance with the father playing spoilsport.
But the girl is super-rich and will add to the family's reputation, so the family kind of helps the boy make way into the girl's heart.
Iqbal Kuttippuram's script seems to take it easy to reach the heart of the story and is influenced by recently successful film, Jacobinte Swargarajyam. Here, too, the father loses his fortune overnight.
While his children, who are well off, blame him for his misfortune and leave him, Jomon is the only one to lend a helping hand and takes him to Tirupur to save him from further humiliation.
The director tries to make the film feel fresh by casting Mukesh as the father, who is unabashedly fond of a foreign brand of cigarette. It is the chemistry between the two actors that works for the film. We have seen Dulquer being a free-spirited guy with a comic flair and with Mukesh adds something special to it.
In the second half, when our hero has to begin his life from scratch, he gets a second chance in love in the form of Vydehi (Aishwariya Rajesh), who is the exact opposite of Catherine. She is a middle class girl, focused on achieving something that she cannot afford in her current circumstances. Now, this couple exchanges life lessons enriching each other in a predictable way.
There are others in the ensemble of actors who get our attention like Manobala as Perumal Vydehi's father and Sivaji Guruvayoor as Vincent's friend. Innocent, Muthumani and Vinu Mohan dish out standard fare as family members.
All this makes Jomonte Suvisheshangal standard from the director's stable.
Rediff Rating: