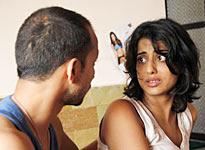 Raja Sen feels Ram Gopal Varma disappoints with Not A Love Story. Post YOUR Reviews here!
It can be argued that some directors shoot with a roving camera, representative of the male gaze. That theirs are the cameras that intrusively tackle the forbidden, lingering lecherously on legs and posteriors and cleavage where other conventional, 'shyer' cameras would look up at the girl's eyes. Ram Gopal Varma has long been a proponent of the voyeuristic lens, the one that sneakily, surreptitiously, shamelessly thrusts a sexual angle right in our faces, occasionally effective enough to nudge the viewer into guilt. This, in theory, may well be intentional, the filmmaker offering up a trick-mirror to the audience to shame them into submission.
Of late with this particular director, however, we've mostly just been rolling our eyes. And in his latest film, as a girl mopping the floor clean of blood has the camera trying to peek down her blouse, or later when it swivels inexplicably up her dress to briefly show us the colour of her undergarments -- this while she's torn and emotionally traumatised and trying to cope -- it's hard not to label the exercise as pornography. This is Varma at his most sexploitative, milking a already-sensationalized real-life murder and labeling it a crime of carnal passion.
Varma tries excruciatingly hard to keep this film constantly scalding. The never-stationary camera flits from face to face, angle to angle like a particularly jumpy fly on the wall, and while there are indeed moments this works -- near the end of a film where a lawyer outlines a plan and the camera swims around like the heroine's head would, or when the murderer takes the murderess by the chin to avoid showing her the bloody carnage on the suburban floor below -- but more often then not, it's plain unnecessary. Meanwhile, Sandeep Chowta's idiosyncratic background score screeches at us, presumably to discourage nodding off.
Why, you may ask, would sleep be a risk in the first place? It is a film about a true murder case, and has two very good actors in the lead. Aren't the facts themselves exciting? Not quite. Tragically enough, while there might be enough meat in this version of the story for a great India's Most Wanted recreational exposé, it doesn't have feature-length potential, not the way RGV shows it.
This isn't
Blood Simple
, where we dwell on the act of murder itself, and the violence inherent in all of us, or the messiness of the crime. This isn't a film where the director draws up different versions of the crime and steps back and lets us pick a side. This isn't a film that justifies, condemns or leaves room for debate, for ambiguity.
Not A Love Story
is a sadly simplistic project, one showing a version of the crime -- Varma's film would have us believe the court recently got it right --
without comment or craftsmanship.
It must be said, of course, that nobody can make a Varma film like Varma would. His approach is entirely his own and, surprisingly enough, he often tackles this film with traditional horror-movie grammar, to the extent that if we didn't know this film was based on a case we've all read about, we might have genuinely been surprised by the lack of spooks as promised by the canted shots of the building, the building where both screen and actual murders happened. Nope, nobody does RGV quite like RGV, but, unlike a decade ago, not many might want to.
The performances are solid at the start, only to dissolve into high-strung theatrics as the film goes on. Mahie Gill is believable as an ambitious North Indian girl with a halting English accent, wanting to break it into the movies, but Varma, in a clear bid for sympathy, exaggerates her character's vulnerability to an insane degree, and makes the poor actress spend a lot of time sobbing hysterically. Deepak Dobriyal is, as always, very solid indeed, except that Varma increasingly pushes his character into that of a maniac, demonically sure of himself. Ajay Gehi, playing victim, is both believable and believably written. The rest of the cast is mostly let down by overdone dialogue, except Darshan Jariwala who sparkles briefly as a lawyer.
Which makes me wonder if Ramu shouldn't have perhaps spent more time on the lawyers? Because at least the way they conjured up different kinds of spin was interesting. The film takes its own unsweet time unspooling both basic fictional buildup and the facts of the case -- the murder, the body being chopped up and disposed of -- but this is all either obvious or common knowledge. The papers have told us, and some TV channels have speculated with even more macabre glee than Ramu. He isn't even shocking us with graphic gore, that is mostly implied. Sometimes, to his credit, nightmarishly so.
Like in every RGV film without fail, there are a couple of moments, and here, besides the great chin-in-hand shot, there's a neat aside where, while the prosecution lawyers are roaring in court, the judge squeezes eye-drops into his eyes. That, unfortunately, is as subtle as Varma's metaphors now get. The rest of the time the strokes are far broader: when the girl and the boy are granted a minute to speak, we also see the victim's mother listening in, her nails peeling off wall as she glares and shudders.
For a film like this, it is essential that the filmmaker have something he believes in, something to stand by, to emphasise, to question. Something to say. All Ramu seems to be saying is 'look at me,' and we've seen most of that before. This is a film made in bad taste, and -- with apologies to Mr Capote -- in old blood.
Rediff Rating
: