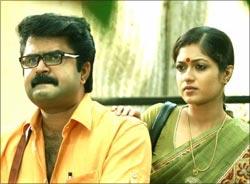 Paresh C Palicha feels that stories like Namukku Parkkan are done to death.

The first thing that comes to mind after watching Namukku Parkkan with Anoop Menon (whom we see in a film every second week these days) in the lead is: how does he justify repeating himself in the same kind of role so often? Directed by Aji John, this film resembles
Mullassery Madhavankutty Nemom P O.

The plot of
Namukku Parkkan
is similar. Anoop plays Rajeev Nair, a veterinary surgeon serving a panchayat. You get no prizes for guessing that he is an upright and model human being who would not take a bribe come rain or hailstorm.
His wife Renuka (Meghna Raj) is a teacher in a government school and they have two young daughters. Rajeev leads a typical middle class life, riding a bike, staying in a debilitated rented house and aspiring to build a dream house of his own with his pet cow in the backyard and a car porch in the front.
There are other typical ingredients in this tale, like Rajeev's was a love marriage and so the question of dowry did not arise, and that he was the first earning member of the family and had spent a lot in making his older brother, played by Tini Tom, a chartered accountant and sending his younger brother (Sudheesh)
to the Middle East. But, Rajeev's self respect does not allow him to ask them for a return favour.
It is true that the films made in the eighties were good and they did make Mohanlal an enduring star. But, trying to replicate Mohanlal's success by copying his films today hardly makes any sense.
We are so familiar with Anoop Menon's mannerisms and reactions in all his characters that nothing surprises us here.
Meghna Raj as the all-enduring wife, sometimes chiding sometimes sulking, passes muster.
All seen and said, a few viewers may shed tears when
Namukku Parkkan
makes it to the small screen in the near future, but the rest will find it just average.
Rediff Rating: