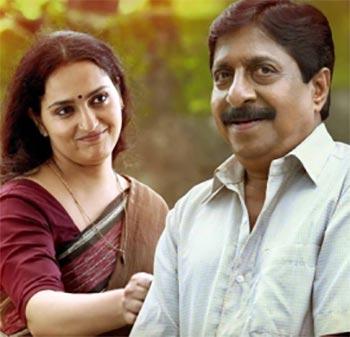 Nagaravaridhi Naduvil Njan does not bring any festive cheer, writes Paresh C Palicha.
Sreenivasan has been a lucky mascot for many new directors whose films he has scripted or acted in. Any newcomer would love to have him on board when he makes his début as an independent director.
Shibu Balan, who makes his début with Nagaravaridhi Naduvil Njan (after being assistant to filmmakers Sathyan Anthikkad and Lohithadas for many years), got Sreenivasan to write the screenplay, dialogues and even play the main role in the film.
But, the result is not as expected.
Nagaravaridhi Naduvil Njan tackles a topical subject that has political undertones. It gives Sreenivasan ample scope to make telling comments on current affairs, which he seems to enjoy.
Venu (Sreenivasan) is a Gulf returnee who spent all his earnings on the well-being of his siblings. But when he returns after 22 years, they throw him out.
He is left with nothing but an understanding wife and a teenage daughter aspiring to be a doctor.
Venu gets a job as a security guard in a residential building. It's difficult for him to make ends meet. Then his daughter threatens to commit suicide if she does not get through her medical entrance exam.
His wife Sunitha (Sangeetha) reminds him that he had bought a small plot in the city a long time ago as an investment and could sell it to finance their daughter's medical education.
Venu finds it hard to locate the plot. There has been heavy development in the area which is now a posh residential locality.
When he at last finds the place (the search of which seems to be unending), he is shocked that the residents have converted his investment into a dumping yard.
There are many holes in the plot and some unconvincing situations.
For one, it is difficult to believe that a penny-wise person like Venu would have ignored a prime investment for such a long time.
His friend of younger days, Rajasenan (Lal), who had revolutionary ideas about uplifting the masses, has become a filthy rich man by playing power games and dumping his political ideology.
When the film suggests that a common man can be coerced into becoming a contract killer to fulfill the dreams of his children, our credibility is stretched too far.
Sreenivasan does not bring anything new to the table as an actor. The self deprecatory humour sounds repetitive and stale.
Sangeetha makes a comeback to cinema after a long break. She was Sreenivasan's leading lady in Chinthavishtayaya Syamala, which has achieved cult status over the years. But the two cannot ignite the same magic.
Innocent and Vijayaragavan are used as staple comedians. This deepens our disappointment with the overall proceedings.
Nagaravaridhi Naduvil Njan does not bring any festive cheer; it's just an average effort and a big letdown for the audience.
Rediff Rating: