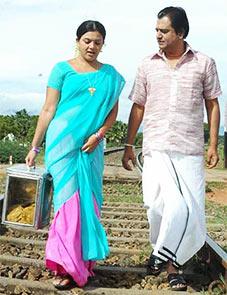 Vivek's Naan Than Bala directed by Kannan is a highly melodramatic tale of friendship between a righteous temple priest and a hardcore killer, says S Saraswathi.
Actor Vivek's comic timing is legendary; he has entertained us with his unique brand of comedy in innumerable movies over the years.
While it's no surprise that he has taken a shot at playing the lead role in his latest film, the role he chose to play has no comic elements.
In director R Kannan's Naan Than Bala, Vivek plays a righteous Hindu priest with high principles and a remarkable knowledge of scriptures.
Newcomer Swetha plays the female lead supported by Venkatraj, Cell Murugan, Mayilsamy and others.
The core of Naan Than Bala is the implausible friendship between a deeply religious, conscientious priest and a hardened criminal.
There is reference in the film to the unbreakable bond between Karna and Duryodhana, who shared a similar relationship.
With such a philosophical storyline, one would expect an intense, emotional drama emphasising the ethical dilemma of the characters.
Unfortunately, the director has been unable to handle this complex relationship and has sought refuge in romance, humour and patronising sermons instead.
Bala (Vivek), a poor priest lives in an agraharam in Kumbakonam, looking after his aged parents and performing puja at a Perumal temple. Circumstances force him to accept help from a hired killer Poochi (Venkatraj) to save his father from a jail sentence.
But life takes an unfortunate turn for Bala. Unable to bear the taunts of the neighbours, Bala's parents commit suicide. Bala is forced to leave the agraharam.
He begins a new life with his friend Poochi in Kancheepuram.
Vaishali (Swetha), a young Sourashtrian who sells poli on the streets, comes into his life. Soon they get engaged.
Meanwhile a close friendship develops between Bala and Poochi.
The turning point in the story comes when Bala learns of Poochi's true identity. The police and the family of one of the victims are desperate to hunt down Poochi.
Though Bala is a good influence on Poochi, can he reform a cold hearted killer, who has been manipulated and trained by a dangerous gangster from the time he was ten?
The second half is all about whether their friendship survives this war of principles.
Cell Murugan and Mayilsamy have been roped in to provide some laughs, but most of the jokes are rather lame.
Newcomers Swetha and Venkatraj are just about adequate.
Vivek is a seasoned actor and he proves that he is ready to take on more serious roles. There is absolutely no awkwardness and he appears quite convincing in this entirely new avatar.
The film is about the usual triumph of good over evil, but the director has tried to relate the situation and characters to Hindu mythology and added quotes from the scriptures too.
The weak script and the director's inexperience are very much evident in the film's execution.
Neither the music nor the cinematography helps the narrative.
Director Kannan's Naan Than Bala is sloppy and totally lacks focus.
Rediff Rating: