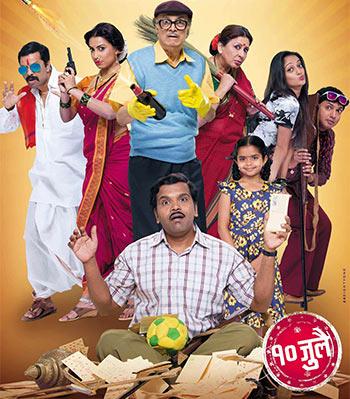 The comedy is clean, simple, silly. Yet, you long for more. And it does keep coming, promises Prasanna D Zore.
Just when you think the punch line has been delivered, it hits you again. And again.
Director Rahul Jadhav ensures there is never a dull moment in this murder 'mystery', ably supported by his star cast, writer Neha Kamat's storyline and Prashant Loke's dialogues.
Jadhav's Murder Mestri revolves around three individuals, all Madhav Mestris, residents of Sawantwadi, a picturesque town in Malvan, Maharashtra.
Their lives goes for a spin when a postman, Hrishikesh Joshi, the protagonist of the film, who is obsessed with snooping on letters (yes, in the time of WhatsApp, e-mail and SMS, people in this town do use inland letters for communication) he has to deliver, stumbles upon one such missive that plots Madhav Mestri's murder.
Joshi decides to save Mestri's life just so that he becomes hero for his adorable daughter Pari. But there are three of them and he doesn't know who is likely to be bumped off.
So he writes two more letters and delivers it to these three gentlemen.
It takes the film the first 30 minutes to introduce you to the characters but once this has been established, the fun and chaos begins in the lives of Dr Madhav Mestri and his wife (Dilip Prabhavalkar and Vandana Gupte), Sarpanch Madhav Mestri and his wife (Sanjay Khapre and Kranti Redkar), and a newlywed Madhav Mestri and his wife (Vikas Kadam and Mansi Naik).
Dilip Prabhavalkar looks jaded and wasted doing Bharat Jadhav-like repetitive comedy. Not that one is finding fault with the actor and his skills but blame it on director Rahul Jadhav (the only mistake one can blame the director for) for he could not get more out of one of the finest actor of Marathi cinema.
Vandana Gupte, who looks older on screen than real life (yes, the star cast attended the premier), and newcomers like Mansi Naik, Kranti Redkar, Vikas Kadam and Sanjay Khapre deliver Jadhav's vision on screen.
Murder Mestri scores with its sincere attempt to move away from Bharat Jadhav-Makarand Anaspure-type films that rely more on actors' facial gestures and gesticulations than on the plot and their acting skills. The credit for this new experiment must go to Jadhav, Kamat and Loke whose dialogues are fresh, below the belt, yet one can watch it with family without cringing in their seats.
One of the scenes worth a mention is Mansi Naik and Vikas Kadam's raunchy, kinky honeymoon scene that is intended not to arouse but leave the audience in splits.
Also, worth mentioning is Kamlakar Satpute's cameo as a supari killer (reminds you of Crime Master Gogo from Andaz Apna Apna minus his dramatics). Watch the film to know what I mean.
Jadhav has made a film, which you can watch many times over and yet, on each occasion, come out of the theatre with a paisa vasool feeling.
Rediff Rating: