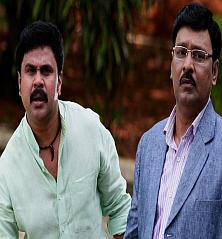 Paresh C Palicha feels Mr. Marumakan is a typical Dileep film

We have many a battle royale between a mother-in-law and son-in-law on the big screen so we can guess the template when we hear the title
Mr. Marumakan
with Dileep and Kushboo playing the leads. Directed by Ssandhya Mohan (maybe the spelling shown on credit roll is influenced by numerology), the film does have Dileep's stamp of humour backed by Siby K Thomas's and Udayakrishna's script, but somehow we find it hard to digest whether it is a typical comedy or a family drama.
Ashok Chakravarthy (Dileep) runs a drama troupe where he plays the lead role, write scripts and directs plays. And, as fate (or as the whim of people behind this film) would have it, both Ashok and his alcoholic elder brother played by Biju Menon are neck deep in debt with the threat of their ancestral
tharavadu
going under the auctioneer's hammer looming large. It is another thing that both these guys are highly qualified; while the elder has done MBA from London, the younger one is qualified lawyer.
Things take turn when the bank's ombudsman Balasubramaniyam (Bhagyaraj) lands up to solve their case. He turns out to be the friend of their father (Nedumudi Venu). Now, before we can get a grasp of the proceedings, there are talks of marriage between Ashok and Balasubramaniyam's estranged daughter Rajalakshmi (Shanusha), which happens at the interval point of this three-hour
long film.
In between, there are so many twists and turns that we lose count of them.
Dileep's character graph is predictable as it is always in his trademark films: starting with Chaplinsque comic to being a superhero who faces twenty baddies. Here he has the additional responsibility of taking on three generations of ladies; Sheela, Khushboo and Shanusha, which he does with crude and sexist jokes.
It is agreed that this is not a thinking person's film, so, we cannot hope for finesse or structural cohesiveness. But, here it is done away with totally and focusses on episodic high points as if it is a never-ending TV serial. Shanusha may have thought this would be the best launch pad for her as an adult actress (till recently she was known Baby Shanusha, the child artist) with two experienced actresses of past by her side. But, here she is reduced to be an overly made up bimbette. The other two actresses have to do something bordering on bombastic but their experience seems to be the saving grace.
Mr. Marumakan
is a typical Dileep film, not one expected from someone who is recently honoured as the Best Actor by the Kerala State Government.
Rediff Rating: