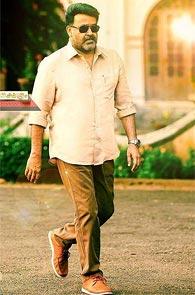 Only the hardcore Mohanlal fans will like Mr Fraud which is otherwise an uninteresting film, says Paresh C Palicha.
Once upon a time, Malayalam cinema prided itself on its content and actors became popular due to their histrionic prowess.
Then there began an era of superstars, where actors gained prominence and the stories started revolving around them.
Directors focused on the mannerisms and dialogue delivery of the stars since these were what supposedly attracted the fans.
Mr. Fraud, written and directed by B Unnikrishnan, does the same, to cater to Mohanlal's fan base.
The hero is called Bhaiji by his followers. He is a big time thief with expertise in technical matters.
He changes his get-up for every new job. For one such job he is dressed up as a singer influenced by none other than Bob Marley! During a wedding function, he poses as this rap singer who uses Malayalam lyrics and charges Rs 1 crore for it.
He absconds with the cash kept aside by the bride's father as dowry. The father cannot lodge a police complaint as giving dowry is a criminal offence, and most of it was unaccounted for.
If you have questions like why such a huge amount of cash (Rs 100 crore) was kept at the venue of a wedding reception, or how someone can run away with it without creating an alarm, keep them to yourself. The director is not interested in clearing such silly doubts.
Next, the scene shifts to a palace in Kerala. Here, our man has to rob the valuables kept in the palace cellars and keep a part of them as his fee. The members of the royal family are in dispute over the inheritance and the valuables have been kept locked on the court's orders for the last 41years.
Bhaiji enters as a qualified evaluator of the valuables and has an elaborate plan to whisk them away. How he does that forms the rest of the story.
This is the weakest part of the film even though he has state-of- the-art gizmos in a van outside the palace manned by his two assistants played by Vijay Babu and Manjari Phadnis.
Mohanlal makes no effort to perform well in this film, as he is made to mimic himself. The film may enthuse some hardcore fans, but it is boring for anyone else.
As for the actor playing his age, there's nothing much to it.
Of the supporting cast only Siddique, as a member of the royal family who has turned a communist, and Mia George as his foster daughter Saraswathi, make some impact.
Mr. Fraud is an uninteresting film unless you are a hardcore fan of Mohanlal.
Rediff Rating: