What happens when you are in a life-and-death situation and, as it happens often in such situations, you just have a moment to make a choice?
Monsoon Shootout makes you sit on the proverbial horns of such a dilemma, notes Prasanna D Zore.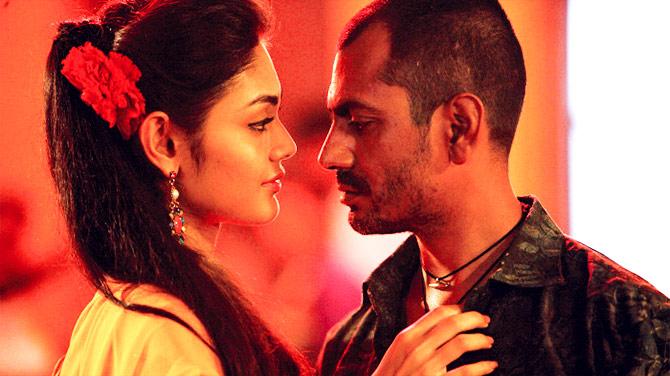 Whatever choice -- the right one, the wrong one, or taking the middle path (Nobody is ever so confident about such choices) -- you make in these situations, and its consequences, keep haunting you for the rest of your life.
Monsoon Shootout's protagonist Adi (Vijay Varma), a rookie cop, on his very first assignment as a Mumbai crime branch cop, faces a similar situation.
In front of a manic murderer with an axe fetish, Shiva (Nawazuddin Siddiqui), Adi, with a gun in his hand, contemplates whether to shoot to kill, let him escape, or take a middle path by hitting him below the waist and arresting him for the law to take its own course.
Film-maker Amit Kumar freezes this critical moment in time, and lets Adi standing on a razor's edge, think about the effects of each of his actions.
The film then takes you on three different tangents, each ending with Adi being the ultimate sufferer.
In a film, that has to explore these possibilities in just about 105 minutes, Monsoon Shootout wears down the viewer mentally as the three scenarios play out on screen.
Where director Kumar scores brilliantly, though, is in marshalling his actors -- Varma, Siddiqui, Neeraj Kabi as Inspector Khan, Tannishtha Chatterjee as Shiva's wife, Geetanjali Thapa as Adi's love interest and Sreejita De as Shiva's moll -- writer Kumar takes you on an indulgence trip as Adi explores four different consequences -- yes, the three that Adi contemplates and the fourth one is what actually happens before the credits roll of his action.
Kumar, known for his brilliant, short, crime thriller The Bypass, starring Siddiqui and Irrfan Khan, is equally brilliant with his treatment of Shiva's vicious murderer, Adi's conscience-conscious cop, and Khan's trigger-happy encounter specialist.
Each time Shiva wields his axe it scares you no end even if the blood and gore is just symbolic and not graphic.
Like the scene in which Shiva beheads Inspector Khan in a Mumbai docks, the director shows a fisherwoman chopping off a mackerel's head.
Each time the system-following, order-following, Inspector Khan raises his gun to shoot in cold blood, it leaves you aghast.
Each time Adi struggles between 'ends and means' you empathise with him.
For those who have seen The Bypass, Kumar's 18-minute short film, the treatment to acts of blood and gore in Monsoon Shootout, look all too familiar.
Credit is due to actors like Varma, Kabi, Chatterjee, Thapa and De (the three girls look ravishing and sincere) and others as they shine essaying their characters in three different situations.
But given their limited screen time nobody gets a chance to stand out amid scores of characters in under 105 minutes.
Had writer-director Amit Kumar given his characters more time and fleshed them out, Monsoon Shootout would have been a wonderful cinematic experience.
Rediff Rating: