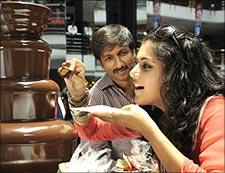 Radhika Rajamani feels Telugu film Mogudu is disappointing.

M
ogudu
is another family entertainer from director Krishnavamsi, but the Telugu film is stuck in a time warp. It harks back to a time when such films reflected the society of which they were a part, but times have changed and so have people.
Ramprasad, also known as Bujji (Gopichand), is the only son of Anjaneya Prasad (Rajendra Prasad) who runs a Mercedes Benz showroom. He and his three sisters and their families live with their father.
One day Bujji sees a girl dancing with others at the Golconda Fort and it is love at first sight for him. She introduces herself as Rajarajeshwari (Taapsee Pannu), who happens to be the daughter of a politician Chamundeshwari (Roja). She too falls in love with Bujji and the wedding is fixed.
After the wedding, there is an argument about the taking of the Gowri idol, which leads to a scuffle between the two and ends with Rajarajeshwari throwing off her mangalsutra. Her mother wants her to apply for a divorce and Bujji reluctantly signs the divorce papers to save his family from being
dragged off to the police station by Chamundeshwari.
The two meet again at the airport when taking a flight to Mauritius. A friend of Bujji's from the past (Shraddha Das) also reappears, and as Rajarajeshwari shows signs of being jealous of Bujji's old flame, the question predictably is: will this rekindle the old emotions in Rajarajeshwari and Bujji?
Krishnavamsi's fascination for the family and for tradition is given full play in the film. The decibel levels are high: everyone is either shouting, screaming, or hitting everyone else. The lyrics are meaningful in the song Kaavali picturised on the bare-chested hero and glamorous heroine. Shraddha Das too bares some skin in one of her songs. Dialogues are tacky and it's all just one big high-voltage melodrama.
Gopichand seems uncomfortable in his role; he is more suited to action roles. Taapsee Pannu is the one bright spot in the film though she has to contend with poor characterisation. Shraddha Das flits in and out of the film, adding some sex appeal, while Rajendra Prasad does the father's role well.
On the whole, a disappointing film.
Rediff Rating: