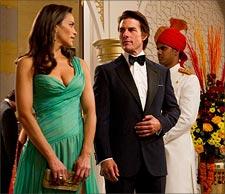 Director Brad Bird, for most part, lends Mission Impossible: Ghost Protocol a sense of splendid urgency with fast-moving impulses and ambitious set pieces but lacks the smarts to wholly approve, writes Sukanya Verma.

Just a week ago, Tom Cruise walked the red carpet in Mumbai for the premiere of his latest movie.

Fans and press, restricted by strong-willed barricades on either side, screamed for a piece of the small-framed, casually-dressed Hollywood actor. That evening, it was hard to tell one from another. It was even harder to believe that someone would actually take money to cheer for the man. If you would have attempted to leave the venue between this frenzy, you'd know. An unlikely audience staunchly stood outside the gate hoping to catch a glimpse of the 49-year-old refusing to even slightly budge and let this writer pass.

Meanwhile, Cruise, accustomed to outrageous amounts of attention, handled it all with amazing calm, gratifying admirers and reporters with autographs and answers. But, of course, there was plenty to ask; after all his fourth film in the Mission Impossible series has a reasonable chunk set in India.
Question is, is it worth this hype? Read on.

Tom Cruise returns as IMF agent Ethan Hunt in the action-based franchise, directed by Brad Bird (acclaimed filmmaker of animated films like The Iron Giant, The Incredibles and Ratatouille) under challenging circumstances following his organization's disavowal when the blame for a spectacular bomb strike on Kremlin is laid upon them.


In a bid to hunt down the real troublemaker, a Scandinavian diplomat turned demented terrorist (Michael Nyqvist), Hunt and his squad -- fellow agent Jane Carter (Paula Patton), tech whiz Benji Dunn (Simon Pegg) and IMF analyst William Brandt (Jeremy Renner) globetrot from Moscow to Dubai to Mumbai engaging in fast-paced conflicts and nail-biting encounters.

As promised in the teasers, Mission Impossible: Ghost Protocol delivers on account of its jaw-dropping action. Whether it's the justifiably talked-about stunt with Cruise clambering the 124th floor of Dubai's landmark aka Tallest Building in the World, Burj Khalifa or an elaborate chase between him and Nyqvist in a brilliant sandstorm or a high-octane climax in a sleek parking lot (of what is Vancouver pretending to be Mumbai), Ghost Protocol, in all its IMAX glory, has its bright points.

Unfortunately, the most exciting aspect of Ghost Protocol turns out to be a major letdown. The Mumbai bits, most of which turn out to be Canada (Vancouver Convention Centre), are ridden in tedious clichés and shoddy detailing – women strolling on the street dressed in out-of-date, rich zardozi salwar-kameezes, board signs written in what looks like a Kannada script, billboard advertisements of Coca Cola Zero and a state-of-art multi-level parking with mechanical lifts. And then there's a lecherous billionaire Brij Nath (Anil Kapoor) and his India-on-a-platter themed grand bash that does very little to contest this culture rut.

Nevertheless, a good pace always works in an action film's favour and Ghost Protocol adheres to this mantra. Right from Hunt's fabulously staged escape from a Russian prison, a slight tribute to The Great Escape, till the time they get to India, the daredevilry fest keeps it fast and furious.

Though it's all computer generated, the Kremlin blasts are authentic enough to cause discomfort. A typically Mission Impossible moment occurs within its interiors when a disguised Hunt and Benji sneak in to collect crucial information, hoodwinking the security using quick tactics and cool gizmos. Pegg's Benji is the only reason the script coughs up a few laughs every now and then.

If Pegg brings in humour, Paula Patton pitches in the glamour whereas Jeremy Renner contributes in intensity, courtesy a futile sub-plot that never really comes into its own. As for Cruise, after a brief show of emotionality in the third movie, he's back to playing Ethan Hunt nice and starchy. With so much exaggeration to contend with, a reserved disposition strikes a good balance.

Unlike his sly, intimidating host in Slumdog Millionaire, Anil Kapoor is squandered in a tiny role, usually reserved for the likes of Gulshan Grover that asks for nothing except playing dumb bait. To Kapoor's credit, he's quite a sport and appears much too happy to star in a franchise of this stature to care.

Also, it's equally criminal to underuse the talent of Swedish actor Michael Nyqvist (As it is In Heaven, The Millennium Trilogy). The man with the most stabbing pair of eyes is reduced to an exotic evil caricature when he's capable of exuding refined menace in a feature that doesn't really have a sharp antagonist to counter. Note Philip Seymour Hoffman's menacing turn in the previous installment.

While Ghost Protocol isn't really an upgrade in the series, it has several adrenalin-charged moments, based on the generic elements that have unfailingly worked in the brand's favour --an undemonstrative Tom Cruise, self-destructing messages, ever-deceitful masks, infiltrating into high-security zones, leaping or clambering from a dizzying height, the works. What the plot lacks in cohesion or characterization, it compensates with spectacular displays of adventure.

Brian De Palma's MI-I was elusive and canny, John Woo's MI-2 reveled in style and attitude, J J Abrams' MI-3 kept it edgy and layered. Brad Bird, for most part, lends Ghost Protocol a sense of splendid urgency with fast-moving impulses and ambitious set pieces but lacks the smarts to wholly approve.

Rediff Rating:



Also Read

PIX: Tom Cruise parties with Bollywood
PIX: Tom Cruise, Anil Kapoor at MI 4 Dubai premiere
Tom Cruise on a 'Mission' in India
Tom Cruise: I would love to come back to India
Will Anil Kapoor rock in MI 4?