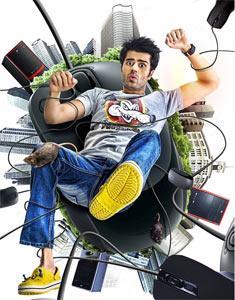 Mickey Virus gets better only in the second half, according to Paloma Sharma.

Written and directed by first-timer Saurabh Verma, Mickey Virus opens with an Eminem lookalike running through the streets of Delhi before he is murdered by mysterious assailants.

The film then cuts to a boardroom full of high-ranking police officials who are informed that the murdered man is an addition to a long list of hackers who came to Delhi for an unknown assignment. ACP Siddhant (Manish Chaudhary), the cop in charge of the case, is looking for a street-smart hacker who can help him solve the case. Enter Mickey Arora aka Mickey the Virus (Manish Paul).

Mickey is a perfect specimen for the study of the vella (good-for-nothing) lifestyle -- he never seems to be in college, doesn't have a job, has to be made to look after his kaddu-obsessed mother's grocery shop and is allergic to any form of work. However, Mickey is a brilliant hacker -- which is why ACP Siddhant forces him to work for the police and ends up endangering Mickey's life.


Not that much was going on in Mickey's life, anyway.

Mickey and his friends Floppy (Raghav Kakkar), Pancho (Vikesh Kumar) and Chutney (Puja Gupta) do only three other things except hacking -- watching porn, drinking straight from the bottle, eating 'chowmein' from a stall named "Michael Jackshein" and watching porn (and did I mention watching porn?).

Mickey has designed a video game character called Kung Fu Chameli -- who is his idea of the perfect woman. Eventually he does meet a real life version of her (Elli Avram) and, in order to meet her again, he hacks into classified databases to find out her details and randomly show up at her place of work and home.

Not creepy at all.

Mickey Virus is more (melo)drama than comedy and the thriller half of it kicks in only after the interval. The first half drags on with Mickey's obsession with the real Kung Fu Chameli and their relationship.

Although the characters do indulge in hacking and police work (both of which are essential for the story), the focus of the first half of the film remain Elli Avram's midriff and glossed lips.

The second half of the film gets a lot better in comparison when the mystery begins to unfold.

But not many would want to wait around after an hour of procrastination on the part of Mickey and the director while the dialogues, filled with forced techno-slang, inflict metal wounds on the audience.

Manish Paul deserves a pat on the back, considering that this is only his first film as a lead.

That said, Mickey Virus should have ideally been played by Ranbir Kapoor, given the falling-in-love-and-coming-of-age theme of the film.

Similarly, Elli Avram could've been replaced by any Indian actress, but then, like Chutney says to Mickey in the film, "Gori chamdi dekhi nahi ki phisal gaye."

The real heroes of the film, however, are Manish Chaudhary and Varun Badola, ie, ACP Siddhant and Inspector Bhalla.

The two of them have impeccable comic timing but never shy away from building the suspense either. They could've served as a good example for the leading pair. The much-touted song from the Mickey Virus soundtrack, Pyaar China ka maal hai, seems more like a wannabe Emotional Attyachaar than a song in itself.

Mickey Virus is based on an interesting idea, the plot is good and the film is relevant at a time when cyber crime is increasing.

However, with weak direction, even the best of stories cannot be told well. This 130-minute venture takes too long to set the tone of things and could definitely use a shorter, tighter script.

Mickey Virus is two films divided by an interval. The first half is a marathon of the now (thankfully) defunct TV show Dil Mil Gaye and the second is a suave, well-scripted suspense.

If you have time to spare and the strength to tolerate the first half of the film, book your tickets now.

Rediff Rating: