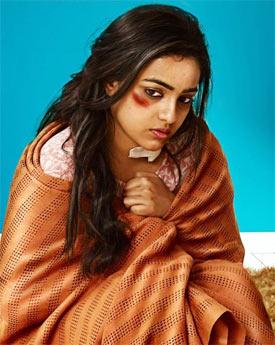 Director Sripriya's Malini 22 Palayamkottai is a dark women-centric revenge drama that highlights the burning issue of sexual assault and violence against women, writes S Saraswathi.

Malini 22 Palayamkottai, directed by the popular yesteryear actress, Sripriya, is a remake of the critically acclaimed Malayalam film, 22 Female Kottayam (inspired from Ek Haseena Thi) that turned out to be one of the biggest successes of 2012.

Malini 22 Palayamkottai is produced by Rajkumar Sethupathy (Sripriya's husband) and has music by Aravind-Shankar.

The film brings to the forefront the contemptuous, callous and demeaning attitude towards women today. It depicts a society that considers women as sex objects to be used and tossed out in favour of a new and fresh model, a society where even children and the handicapped are not spared.

The female protagonist in the film, Malini, played by Nithya Menen, is a 22-year-old nurse from Palayamkottai who works in Chennai. She wants to go to Canada and is awaiting her visa. Varun (Krish J Sathaar), who works for a consultancy service, is helping her with the formalities. He is attracted to Malini, flirts with her, pursues her and slowly wins her over with his charm.

There is also Varun's boss, Prakash (Naresh), a friendly gentleman, who is quite keen on getting Varun and Malini together. There is an incident in a pub, where Varun bashes up a guy who misbehaves with Malini. Later, he seduces her with emotional words and both get intimate.

The very next day, Malini's world collapses. Prakash informs her that the guy Varun attacked has political influence and is
out to get him. To help him, he has advised Varun to stay out of contact for a couple of days.
Then just as casually he turns to Malini and asks her if he can have sex with her. A stunned Malini tries desperately to escape, but she is brutally assaulted and raped by this raving maniac, in her own home.
Varun returns vowing to take revenge and assures her that nothing has changed between them.
But what is he hiding, what is his real relationship with Prakash? All this and more in the second half.
The songs and the background score by Aravind-Shankar add to the mood of the film. There are no out-of-context songs set in exotic locations, but simple beautiful numbers quietly blending in with the scenes.
As the name suggests, the film is all about Malini, Nithya Menen. As the story unfolds, we witness all the many facets of Nithya. The charming and cheerful small-town girl, who has dreams and a sparkle in her eye is reduced to a helpless and frightened victim, and finally transformed into a bold and confident woman, who takes back control of her life.
Both Krish J Sathaar and Naresh are quite convincing with their contrasting characters; equally charming and sickening. Kovai Sarala appears briefly, but does not make much of an impact. Kota Srinivasa Rao, however, adds a nice touch.
Sripriya's
Malini 22 Palayamkottai
deals with an extremely relevant issue of contemporary society. The film comes at a time when incidents of rape and violence against women seem to have become a common, everyday occurrence.
The subject is well handled by Sripriya, but the film does get a bit dramatic in the end with poisonous cobras, and castration offered as a solution to this grave issue.
Rediff Rating: