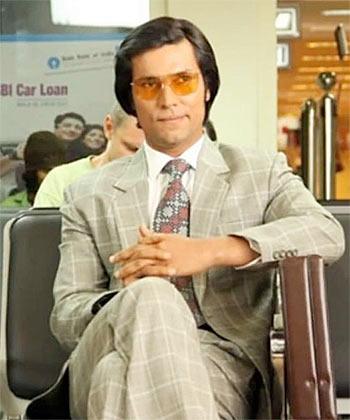 'A film that tells its tale with calculated intent -- coolly, cleverly, taking its time -- mirroring the dry panache of its self-assured protagonist,' says Raja Sen.
The first word used to describe Charles Sobhraj in Prawaal Raman's Main Aur Charles is 'hypnotic.'
This would be fine -- even obvious -- were Raman to kick things off with a pair of bikini-clad girls gushing about him, victims-to-be for the famed serial killer, but that is the keyword used at a police briefing targeting Charles. The aim is not to flatter but to concede: Few remained unsusceptible to Sobhraj's mesmeric charm.
Raman certainly isn't, and his film fawns unashamedly over the notorious murderer, revelling in the glorification of a self-glorifying conman. This approach ushers in unpredictability right from the start. The obvious approach would have been a film about the cat-and-mouse game between Sobhraj and policeman Amod Kant who brought him to justice; unencumbered by any need for balance, however, Raman's film focusses instead on the cat licking leftover cream from his whiskers.
We end up with a film that tells its tale with calculated intent -- coolly, cleverly, taking its time -- mirroring the dry panache of its self-assured protagonist.
The film begins with bikini-clad corpses being fished out of a Thailand beach, a pair of brown oxfords relaxedly tapping against themselves as a man floats casually down a waterway. It is 1968 and Raman's film is all about the vibe, which he lathers on with Soderbergh-like style, intentionally keeping things loosely disjointed and flowy: This is a film that wears its shirt collars gigantic and leaves a couple of buttons open. The pacing, in fact, is a marvel, as the script -- very atypically by Hindi mainstream standards -- cuts its characters slack and moves with organic, unhurried rhythm.
Randeep Hooda, in the performance of his career, plays Charles with immense flair, hoovering up women and stunning men with his French-ish accent and overwhelming self-belief. He waxes on about predeterminism in the courtroom and Paris in the bedroom, and Hooda hits the mark with unshowy, applause-worthy ease.
The film reveres him a la James Bond, but the performance shines because Hooda never appears to be trying too hard. Even when the accent slips occasionally into Clouseau territory, say, it looks as if Charles is turning the wick up too hard for his Indian audiences, not Hooda. The magnetism of the character allows the actor to breathe.
Adil Hussain is reliably excellent in the part of Amod Kant, the cop relentlessly tailing Charles. It is a thoughtful, measured, role, but even here Raman equips him with plenty of coolth: In his walk, in the cut of his three-piece suits, in the pipe he smokes as he concentrates. (And, to some extent, in giving us a lecture on morality and reason by a cop named Kant.)
Richa Chaddha is a fine actress on solid ground here as a feisty lawyer in love with Charles, and while she's occasionally handicapped by too-smitten dialogue, she carries it off and is great when giggling at policemen as they reveal her man's exploits.
Let us not delve into what happens in the film -- because Raman springs many a pleasurable surprise -- but concentrate instead on the devilishly fine details. The way Charles, unable to just "make sex" without falling for his prey, christens himself a monk. The way a warden automatically, and helplessly, refers to Charles as Sir. The way police constables break into irrepressible smiles when they see videos of Charles and his women. The way Anuj Rakesh Dhawan's camera tries to peer through a crowd outside a courtroom. Applause, also, for the film's immaculate sound design: Sharp, sharp stuff.
In a film like this, plot itself comes second to events and epiphanies, most of which may be based in fact. Fact itself is a slippery beast in a life like that of Sobhraj, with blanks mostly filled by the man himself, based on how he wanted his notoriety to spread.
Most of what we know about him is apocryphal, but the choice of legend says a lot; you can tell volumes about a man by the way he tailors his myth. Now 71 and in jail, Sobhraj -- who once charged journalists for interviews, by the hour -- is still litigious enough to make sure Raman's film doesn't use his last name.
Not that we need it. Charles is the only ladykiller we know, and we remain fascinated. And despite the character having Mein Kampf on his shelf and showing fellow prisoners Fritz Lang's Metropolis -- "Hitler's favourite film" -- it should be remembered that the 'Charles' in his name came from a Chaplin impression he used to do back in the day. (Or, at least, that's how the story goes.)
Rediff Rating: