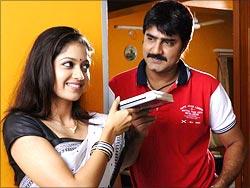 Lucky is a very average film even though the theme of respecting women may be good, writes Radhika Rajamani.
The premise of a movie may be meaningful and relevant but the treatment and execution may falter and spoil the show.
Lucky
, directed by Hari, falls in that category.
The intention of the director may have been good in making a film where he urges the audience to respect women but in the end, dishes out a product which is one-dimensional to a large extent and even ridiculous at times.
Lucky
ends up as a film for the masses with not much of refinement in the treatment. One even wonders how Srikkanth who plays the lead (Lakshmi Narasimha) accepted this film even though he is the saving grace in terms of his acting but can't elevate the film to a certain acceptability level.
Lakshmi Narasimha alias Lucky works in a travel company run by Roja. His attitude towards women is alarming. He is not kindly disposed towards them and finds them irritating. So, one sees him ranting against women. His boss gives him a ticket to Araku to spend time with his wife and he takes his whole family (parents, sister, grandmother) also along! 
When the family hears of a jatra, an annual ritual to be performed by men only, they force Lucky to perform it in the Rajarajeswari temple. Once he performs it, Lucky is a changed man. And what he does later on forms the rest of the film.
The first half of the film is mostly derogatory -- adopts an anti-women stance and hence lopsided. It's quite boring and tedious to sit through Lucky's anti-women monologues and dialogues. The director tries to break this by bringing in Brahmanandam and the scenes are unnecessarily enforced as they have no link to the main narrative.
Tagobothu Ramesh and others are also there to infuse some humour during the drinking scenes but they fall flat.
The tenor changes in the second half but is not properly justified and seems higly preposterous and the climax is pretty ridiculous to see and believe. Bits and pieces seem to be inspired from other films -- especially the bomb in the bus scene and the ensuing media coverage of Lucky. On the whole, the director Hari comes up with a film which is quite tiresome to watch.
 Srikkanth ably shoulders the film and makes an earnest effort. He is believable in his role. But he can't do much given the weak script. Meghana Raj is just about okay.
The production values of the film are also not very high. 
Lucky is a very average film even though the theme of respecting women may be good.
Rediff Rating: