To say Luck By Chance is a parody on the Hindi film industry would be naive if not plain ignorant.
Unlike Rangeela, wherein the latter formed a light-hearted backdrop to the narrative or Om Shanti Om, which lampooned a certain swinging era to source its laughs and chuckles, Zoya Akhtar's crisply-written and keenly directed debut showcases Bollywood for what it is, with all its manipulations, double-standards, glamour, quirks, cliches, shallowness, superstitions, struggles, clannish mentality and ever-changing priorities acting as way of life.
That doesn't entirely suggest Luck By Chance is drowned in cynicism. Sure it has its 'theatre actors vs portfolio prototypes,' 'Tough times of a child artist' and 'Golden age against brash Gen X' moments but Zoya tempers the unavoidable cliches and valid arguments with impressive cleverness and cheek.
While Luck By Chance is about all things related to the film industry, it's refreshingly subtle in its obsession. Although its two lead protagonists -- a pair of struggling actors, talk shop all the time, the emphasis is mostly on networking and bagging opportunities under certain filmmakers. And so it is Singh is Kinng over theatre, where there's seemingly no place for heavy-duty pseudo intellectualism or world cinema humbug.
Also, wanting to be an actor doesn't always translate into a certified fan boy like one of its characters demonstrates to us. To impress his co-star's mom, a yesteryear actress, he winds up catching all her previous DVDs a couple of days before he is to meet the concerned party. Even the prevalence of casting couch is approached with alarming nonchalance and 'There are no free lunches' school of pragmatism.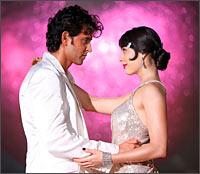 Mostly though Luck By Chance treads the career path of two ambitious actors toiling to make it big -- Vikram (Farhan Akhtar) and Sona (Konkona Sen Sharma) and what happens when the twain cross. While Vikram goes through the motions doing the acting class routine whilst taking lessons for horse-riding and dancing, getting his portfolio shot against the dilapidated Bandra fort, a favoured venue with most strugglers, Sona plays an established starlet doing her 'dead girl's sister' bit in important looking movies. As always failures and frustrations forge the beginning of a beautiful friendship between the two leading to hinted intimacy.
Even as Sona's aspirations face a series of setback, Vikram gets his big break after superstar Zafar Khan (Hrithik Roshan) walks out of Rommy Rolly's (Rishi Kapoor) project last minute to sign on Karan Johar's sure-shot two-hero hit. Sly, charming and aching to succeed, Vikram manipulates his destiny to achieve his goals even if it means being in a watered down-The Graduate like spot with his flippant co-star (Isha Sharvani plays the privileged dimwit with delectable sauciness and lithesome moves) and her fiery mom Neena (Dimple Kapadia, stunning, striking, storming). What follows is his bid to survive, by trick or treat, in Bollywood's aquarium of contrasting, contradictory individuals.
At times reminiscent of the earnestness of Hrishikesh Mukherjee's Guddi. On occasions, emulating the purposeful use of star-studded cameos as in Woody Allen's Celebrity, Luck By Chance is neither preoccupied by gimmickry nor dedicated to hard-and-fast realism.
Instead of spelling out its characters or values for you, it uses definitive moments to do all the talking. Like Mac Mohan (better known as Sholay's Sambha), presiding over an acting school function is asked to repeat his career-making line 'Poore pachaas hazaar,' the focus and gravity of the scene is just spectacular. Much warmth is to be found when Hrithik interacts with street children -- making fish faces, through his car windscreen. Or a sense of irony that rings when (a rather likeable) Sanjay Kapoor as Rommy Rolly's filmmaker brother, Ranjit suggests his one-time actor status and how overconfidence can kill your chances. Unobtrusive symbolism, understated layers, that's Zoya Akhtar's trademark for you.
Another palpable winner is dialogue writer Javed Akhtar's razor-sharp wit, especially when channelled through a gregarious Rishi Kapoor. Sample these: 'Oye institute, main yeh film Film Festivals ke liye nahi bana raha.' 'Subah se itne chimpanzee dekhein hain, ek to Tarzan mila.' 'She's a crocodile in a chiffon sari.'
Despite its laudable aversion for contrived babble like 'Mumbai sapno ka shaher hai,' Luck By Chance isn't above flaws. It follows the linear narrative of struggle-success-corruption-realisation-redemption and in the process reduces Farhan's Vikram into a one-dimensional personality instead of a complex one whereas Konkona's Sona unconvincingly pulls up her socks and hurries you to believe that the story is eventually centred on her. The climax is somewhat disjointed -- lingering in prolonged realisations and meandering monologues, slipping from the dramatic curve it previously drew while constructing the players, their motives.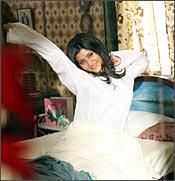 Having said that, Zoya more than lives up to her lineage of visionary sensibilities. Be it in the clarity of her nicely-spread thoughts, the dignity with which she projects the community of strugglers and their unrealised dreams or her perceptive music sense. Besides an eclectic score by Shankar, Ehsaan and Loy, Luck By Chance boasts of a neat background ranging from a Thomas Newmanesque theme to ditties like Bulla ki jaana (Rabbi) and Bachna ae haseeno (Hum Kisise Kum Nahin).
Perfectly casted, Farhan and Konkona are completely in sync with the fundamentals and intricacies of the people they play. Though not exactly a roaring chemistry, they make a comfortable pair. For Konkona, this isn't a new territory. She's often playing the free spirit who knows her mind and her voice. Here too, she knows. Especially when she talks about her individual potential and objectives, a concept totally lost on her self-centred beau.
Farhan, on the other hands, possesses enough earthiness and charisma to pull off the metamorphosis of a needy struggler to a rising star. Eventually, Luck By Chance is as much a Rishi Kapoor film as it is Farhan and Konkona's. The man in a The Royal Tenenbaums inspired wig is simply rollicking while conveying his buoyancy for movie-making as well as gullibility when it comes to numerology, astrology and ilk. And Juhi Chawla pitches in to provide just the right laugh at the right place as the typical, you've-seen-them-galore, vanity-personified, Hunny-Shunny-spewing producer's wife.
It's an extended cameo but Hrithik brings in all the possible dimensions. He plays a slightly enigmatic, edgy superstar. You never really come to know what he's all about. He wants the big films. He wants to be Peter Pan. He can tell brilliant from bogus. He seems to have heart. And yet he seems insecure.
The movie features a whole lot of star/industry appearances, which are best left unmentioned and enjoyed for what it's worth. But as the acting guru Nand Kishore (taking off on a popular acting teacher) and creative writer-caught-in-a-commercial caper, Saurav Shukla and Anurag Kashyap deserve special mention.
You know what? So does the film. And that's neither by Luck. Or By Chance.
Rediff Rating: