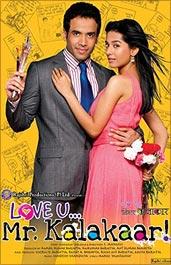 Preeti Arora reviews Love you… Mr Kalakaar. Post YOUR reviews here!
Poor boy meets rich girl. Falls passionately in love with her.
That money or social status may become a barrier doesn't cross his mind.
Pitfalls, problems, hurdles and obstacles crop up with unceasing regularity.
But fear not. This is a Barjatya film where scheming manipulative conmen turn into good Samaritans overnight and love conquers all.
It's just a matter of staying awake and keeping the yawns at bay for a little over two hours.
Having said that Love U…Mr Kalakaar, the latest offering from the Barjatyas is a sincere attempt to break away from their own self-imposed archaic formulas.
The script does not revolve around a large family. There is no mehendi or sangeet or wedding celebration. And Amrita Rao dons western casuals almost through the film -- without the dupattas and the bindis or the jhumkas!
But the changes are superficial. 30 minutes into the film when Tusshar Kapoor says, Mujhe aaj tak kabhi paise ki kami mehsoos nahin hui you know the plot has reached a plateau.
The best one can hope is that it stays there and doesn't start moving downhill.
Tusshar Kapoor plays Sahil Rastogi a successful architect who seems to have lost his passion for bricks and stones. So he conveniently drops the ruler, picks up a paintbrush and starts life afresh.
He's adamant about staying a freelancer because he's afraid that a set office routine would hamper his creativity.
On one such occasion he bumps into a pretty young intern Amrita Rao (Ritu Diwan). And they fall in love!
Tusshar is clueless about her identity. By the time he realises who she really is, he can't imagine his life without her!
So the hoping-to-be married couple sets out to seek blessings from her father Deshraj Diwan played Ram Kapoor.
The father is a tycoon -- autocratic and authoritarian.
Now Daddy dearest doesn't give him the boot. Tusshar is handed a 'tough task' (something similar to this can only be found in the romance novels of the '70s) and a deadline of three months to complete it.
Only then does he stand a chance of winning over pa-in-law's affections.
Given the 'staleness' of the story and old school characters here's where the director could have infused the screenplay with humour, fun and some amount of unpredictability.
The script remains as tied down by convention as the one-dimensional characters and limps forward towards a predictable climax.
For all the Tusshar Kapoor fans who remember him as the stuttering whacko from the Golmaal series here is an opportunity to see him in a new avatar.
Although he's far too beefy and muscular (the biceps seem to bulging more and more with each passing day) to look convincing as a self-effacing, struggling artist, there's an innate goofiness about him which manages to evoke a smile.
Amrita Rao is stuck in the stereotype of 'Why can't my father accept the love of my life.'
She sports a painful puppy dog expression right through though the smile never quite reaches her eyes.
It's a lackluster performance compared to the spirited one she delivered in Main Hoon Na.
Her aunt 'bui' (Madhoo) also looks as though she can't really figure out what she's doing.
If a new award is initiated for the corniest dialogues of the year Ram Kapoor would win it hands down.
Sample these: "Tum nahin badle main badal gaya hoon" and "Yeh tumhara canvas nahin mera business hai."
But he's convincing as the autocratic, authoritarian patriarch with an innate hatred for artists sorry 'Kalakaars'.
The music by Sandesh Shandilya isn't irritating but none of the numbers is particularly hummable either.
The Rajshri fans who thrive on old world love stories might just enjoy this.
Simple and uncomplicated crafted in true Barjatya fashion.
Or if you like the idea of Tusshar Kapoor in a lead romantic role.
There aren't too many of these films being made these days.
Thankfully!
Rediff rating: