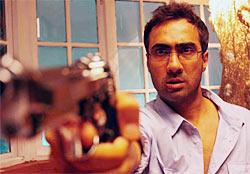 Lack of imagination and an oddball cast lets down Rakesh Mehta's Life Ki Toh Lag Gayi, writes Shaikh Ayaz.


Roughly translated into English the Hindi expression '
lag gayi
' on which this film's title and theme is founded means 'screwed'.
It's a quadriptych; four different stories melting into one another. Along the way you wonder how people from such sharply polarised backgrounds could have any connection at all.
But, then, the idea of this seems embedded in the idea of Mumbai -- a melting pot, a potpourri in which anything can happen, to anyone and seemingly disconnected lives can come together to complete others.
The lives director Rakesh Mehta depicts are on the cusp of a breakdown. It begins with the voice of Sudhir Mishra introducing the city in its most over-used paean; if the narrator says nothing new, the camera captures nothing new.
Vignettes from Mumbai's daily life are pictured with postcard-style glimpses of Marine Drive, CST, Gateway of India and the ghettos. Mumbai deserves a better spin.
The first story is about a son seeking revenge for the deaths of his parents. The terrace of an under-construction high-rise, offering an eagle's eye view of Haji Ali, serves as builder Salman's (Kay Kay Menon) favourite spot where he appears from time to time to reconcile that personal loss.
His father (Jackie Shroff), an underworld don, and his mother, who cooked biryani in happier times, are apparently killed for no reason. This was intended to be a dramatic scene, one in which the grieving son is required to display emotional depth but it becomes, to borrow Naipaul's term, a mimic scene.
In another parallel track, Assistant Commissioner of Police Chautala (Manu Rishi Chadha)
is transferred from Haryana to Mumbai. There are attempts to induce some laughter through an ostensible language barrier device.
Chautala is the only character who seems to have some imagination and spring. For all you know, this may be Chadha's own interpretation, he being an accomplished dialogue writer (
Oye Lucky! Lucky Oye!
and
Yeh Saali Zindagi
).
The ACP is a mama's boy and his phone conversations with her are amusing, if not rip-roaring.
This was the crime part. There is the glamour side, too.
As if compelled to introduce a track on Bollywood, which is so vital to the life of Mumbai, there is a dumb sub-plot involving a Chandigarh girl pushing her luck for that elusive movie break.
And yet another, about a jilted lover (Ranvir Shorey) and his Bengali friend, a death-obsessed dope-head, whose cool-dude hand gestures and ugly shots of buttocks receive more attention than other important aspects.
As if this was not enough, Asrani appears as a homophile and creates outrageous fuss over his pet. If only we could have been spared Neeraj Vora's (as a sleaze ball manager) antics.
But the hamming award must go to -- harrumph -- Kay Kay Menon, particularly his misplaced reaction when he finally comes face-to-face with his parents' killer (Sharat Saxena).
Worst of all, this is a film that will be remembered for two things: casting Razak Khan against type as a suave prince, and more shockingly, the heroine uttering the unutterable, vis-à-vis screen baddie Shakti Kapoor:
"That man looks so innocent." More seriously, it is a pity to see Tom Alter, the best talent on offer here, being given short shrift again. What a terribly boring time spent at the movies.
Rediff Rating: