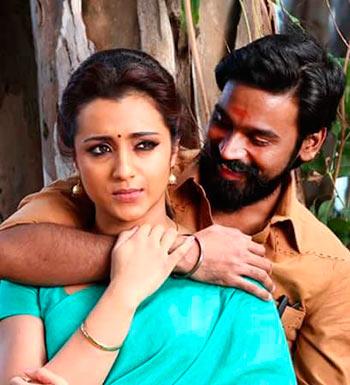 The plot is refreshing and there are no unnecessary twists or excessive melodrama, writes S Saraswathi.
Barely a month after the release of his last film Thodari, National award-winning actor Dhanush returns with an interesting political thriller titled Kodi. The film is directed by R S Durai Senthilkumar of Ethir Neechal and Kaakki Sattai fame.
Set against a rural backdrop, the film reveals what really goes on behind the murky and manipulative game of politics.
Dhanush plays a dual role -- an aggressive politician Kodi and his twin brother Anbu, who is an intelligent, meek college professor.
Kodi is determined to make it big in the world of politics but his biggest opponent is his girlfriend Rudra (Trisha). Both belong to different political parties and are arch rivals but don't allow their political differences to interfere with their love life.
Things begin to get messy when both are chosen as the MLA candidates for their constituency.
Rudra makes public a privately shared moment with Kodi to gain political mileage. Kodi is furious and strikes back.
Their secret relationship is now exposed and both are in trouble with their party leaders.
The second half is all about whether their relationship and careers can survive.
In the film, we are also treated to lighthearted moments between Anbu and Malathi, a bubbly egg vendor played by Premam fame Anupama Parameswaran.
Anupama has not much to do, as the film revolves almost entirely on Trisha and Dhanush.
Dhanush breezes through the roles with seemingly no effort. Trisha is equally impressive, as a heartless power-hungry politician, who has to choose between her lover and career.
Saranya Ponvannan makes the perfect mother as usual, desperate to keep her sons out of the dirty world of politics.
Others like director S A Chandrasekhar (actor Vijay's father), as the seasoned politician and Kaali Venkat, who plays the Dhanush's sidekick, are adequate.
Songs by Santhosh Narayanan are a big plus but appear to be crowding the first half marring the flow of narration.
Cinematography by S Venkatesh is average and so is the editing. The first half lags, but the story gets exciting as it progresses.
The plot is refreshing and there are no unnecessary twists or excessive melodrama.
Some of the scenes are badly written and the director appears to speed things through in the second half, compromising on consistency. More depth and effort would perhaps have made the film more gripping.
Director Durai Senthilkumar's Kodi may not be a well-crafted thriller but superb performances by the lead actors, wonderful music by Santhosh Narayanan and a refreshing script make it worth a watch.
Rediff Rating: