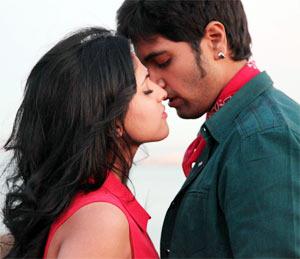 KISS is a pleasant break from routine Telugu films, says Radhika Rajamani

KISS (Keep it simple, stupid) is an unusual title for a rom-com. This sweet love story, directed by Adivi Sesh and produced by Sai Kiran Adivi, treads a different path from the usual Telugu formula film.

It has songs, action, romance and humour but they are not treated in the usual way. The love story unwinds in the course of a day (barring a few flashbacks) against a picturesque San Francisco.

Priya (debutante Priya Banerjee) grows up in the US with a strict father who almost regulates her life. She dreams of a free life and is excited when she gets admission to Oxford University.

But her dreams are thwarted by her father who plans to get her married to a friend's son. Priya doesn't like Bharat (Dr Bharat Reddy) and runs away in his car.

She tries to commit suicide by jumping into the sea from a high cliff but is saved by Sunny. The events of that day then unfold.

This romantic comedy is quite hatke. We see the duo's escapades, having fun in a disco, small arguments, and we also see Priya's relatives' frantic search for her in the streets of San Francisco.

The backdrop of the city is beautifully filmed; the film is shot well and is technically competent.

The events are somewhat predictable --
such as the action scenes where Sunny saves her from three boys who try to molest her, and from the man she is to be engaged to. The film moves at a rather slow pace in parts and one can question how two people can fall in love within 24 hours.
Yet, for all these drawbacks, it offers something different from the usual formula film. Thankfully, the staples of Telugu cinema are missing like the comedians, stereotypical humour, item number, song and dance at frequent intervals.
Adivi Sesh juggles roles as writer, director and lead actor. As Sunny, the lad from Ameerpet who goes to the US to make money and faces disappointment but makes a huge difference to a girl's life, he reveals a warm heart.
Newcomer Priya Banerjee has screen presence and does a decent job. Dr Bharat Reddy is adequate in a negative role. It's a pity that Shafi does not have much to do. The casting for the characters of the mother and uncle could have been better.
Shaneil Deo, the cinematographer, makes San Francisco look beautiful, bringing out the different colours and contours of the city. Sricharan Pakala's music is good. So is the work of the other music composer, Pete Wonders.
KISS
provides a pleasant break from routine films. Watch it for a slightly different feel and cast.
Rediff Rating: