Kahaani 2 could have been a great film, but it isn't, notes Manavi Kapur.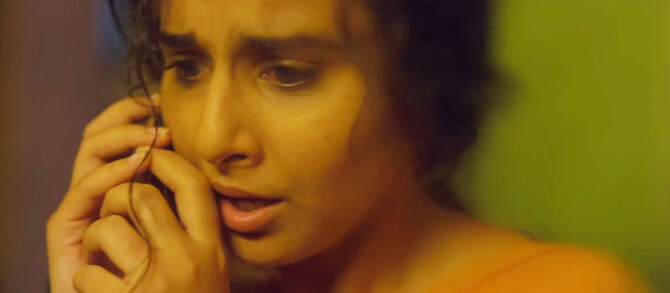 When the second installment of a successful and popular film hits the screens, the expectations are bound to be high.
Sujoy Ghosh's Kahaani was an outlier, a thriller that kept you on the edge of your seat till the credits rolled.
The captivating cinematography and the true-to-life portrayal of Kolkata only added to the overall appeal of the film.
High on drama with minimalistic dialogues, it relied heavily on stellar performances from Vidya Balan, the film's protagonist, as well as lesser-known actors with beautifully fleshed out characters.
To set the bar that high can be tricky business.
First things first, Kahaani 2 has almost nothing to do with Kahaani, except the loose West Bengal connect.
Balan is the mother of a wheelchair-bound girl, writing in her modest journal about her average day. The early scenes in the film are filmed in the minutest of detail, including the packet of sanitary pads lying casually in the chest of drawers.
Her appearance and makeup is a tad overdone in a bid to look 'everyday.' The ominous bad dream and the sixth sense of a mother is also a bit predictable, but one is willing to overlook that for the ensuing action.
There isn't much that can be said about the script without spoilers. The plot twists, unlike Kahaani, are easy to follow and the trajectory is quite straightforward.
The film picks up pace, slackens for a while, and then paces up again during the scenes shot in Kalimpong. A lot of the scenes and the story play out in Balan's voice through her journal entries, so there's little wriggle room for great dialogues.
Kahaani 2 is based in Chandan Nagar and not Kolkata and that seems to be its biggest undoing.
The casual, Bangla-accented banter between policemen and the everyday Kolkatan is sorely missing as are the jokes about Vidya being distorted to 'Bidda.'
What works for the film is a mother's desperation that Balan's character, Vidya Sinha, depicts from the very start.
Whether it is for Mini's (her daughter) treatment in the US, her well-being or eventually the grave danger to the girl's life, Balan balances the screaming madness with an understated, inward-looking anxiety.
Naisha Khanna as Mini Sinha/Dewan is also quite memorable, a precocious young woman who is all too aware of the grim reality of her life and relationship with her mother. The film tackles the important subject of child sexual abuse through the story of the mother-daughter duo, calling a spade a spade, but also doing so sensitively.
And yet, it doesn't move you. There remains that distance that does not let you connect.
While he plays a large role in the film, Arjun Rampal's character is quite forgettable for his deadpan acting. His wife Rashmi, essayed by Manini Chadha, often outshines Rampal with her effortless acting.
If you have watched Kahaani, you would instantly compare Rampal to Parambrata Chatterjee, who played the policeman Satyaki Sinha, and Rampal would come up short.
While Ghosh has been clear that Kahaani 2 is not a sequel but a film from the same thriller brand, Kahaani 2 only succeeds when viewed in isolation from its formidable predecessor.
While the thriller may not move you to bite your nails, it has its moments when it makes you gasp. The climax is easier to anticipate and is somewhat a damp squib.
Kahaani 2 could have been a great film, but it isn't. It is, at best, a one-time watch.
But if you're someone who hasn't seen the first installment, and thus, have little or no expectations from it, it might surprise you with its simple, clean shots and a fair script.