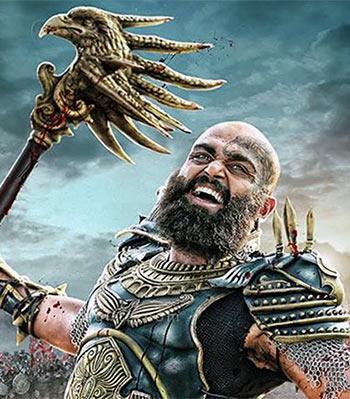 The film starts out well with plenty of fun and intrigue, but the second half does not live up to the promises of the first, writes S Saraswathi.
Director Gokul of Idharkuthane Aasaipattai Balakumara fame is back with a supernatural historical thriller titled Kaashmora (a person adept in black magic). Starring Karthi, Nayanthara and Sri Divya, the film is all about exorcism and helping spirits cross over into the light.
Karthi plays the titular role Kaashmora. He is a clever charlatan, who makes a living convincing people he can communicate with the spirits of the dead. He becomes even more popular when his predictions for a powerful and corrupt minister (played by Sharath Lohitashwa), comes true.
The minister becomes his hardcore follower and soon Kaashmora's supernatural abilities become the talk of the town. But research scholar Yamini (Sri Divya), who is writing a thesis on black magic and spirits, is skeptical about his powers.
She follows him around with a camera, trying to catch him in the act. Though Kaashmora has no special powers, he is often plagued by dreams of a little girl, who implores him to search for something he has no clue to.
The second half of the film unravels the secret to his dreams, taking us back 700 years to the kingdom of Vikrantaka and its brave warlord Raj Nayak (also played by Karthi).
Karthi is barely recognisable as a manic warrior with his tonsured head and evil smile. He is a womaniser, who sets his eyes on the lovely princess of this fantasy land Ratna Mahadevi (Nayanthara).
The director connects this spectacular past with the present characters in a visually stunning film that unfortunately ends in a predictable climax.
Karthi is in his elements as the hilarious trickster, effortlessly fooling people with his glib dialogues. But it is his remarkable performance as the fierce warrior that stands out.
Nayanthara has a very brief role, but makes an impact looking every inch the princess. Sri Divya, who also makes an appearance at odd intervals, with her camera, adds little to the story. But veteran actor Vivek with his exceptional comic timing is perfect as Karthi's father.
The music by Santhosh Narayanan is apt; the Oyaa Oyaa number is beautifully picturised on Nayanthara and Karthi in the period setting.
Technically, the film deserves full credit; every scene appears grand and is visually stunning with great use of computer graphics.
The film starts out well with plenty of fun and intrigue, but the second half does not live up to the promises of the first. The jokes get tedious, and characters become boring and repetitive. The film turns into a regular horror comedy with full moons, shapeless smoky monsters, headless ghosts and human sacrifices with, of course, the hero saving the day.
Despite its flaws, some totally hilarious moments and Karthi's remarkable performance make director Gokul's Kaashmora a fun watch.
Rediff Rating: