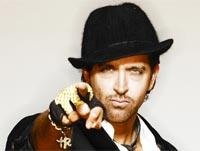 Raja Sen feels dance reality show Just Dance is all about worshipping its host Hrithik Roshan. Post YOUR reviews here.

Initials unravel themselves based on context. When you take a big chunky chain with a dangling HR medallion, the first name that comes to mind is not Hrithik Roshan (just as it's not, say, Hispania Racing, or even, Human Resources). Blinded by bling, our primary instincts race toward a certain nasal singer who actually would -- loud and proud -- wear the aforementioned medallion.

Just Dance, the new Star Plus show, seems to do anything but live up to its name. There is precious little actual dancing on the show, but a lot more hemming and hawing about celebrity judges and the host itself, whose own very name is constantly albatross'd by a ridiculous epithet that he will surely have trouble living down. I can imagine Hrithik strolling into a party only to have his A-lister friends gigglingly ask, "How's it goin, God Of Dance?"

Yes, God Of Dance. Everytime Roshan is mentioned on the show by some announcer fellow who does the brunt of the show's compering while Roshan waits in the danceclouds above, he is called that. "God Of Dance himself!" the compere trills, as if it were a familiar name we have already accepted and bought into as legend.
As I waited interminably for someone to actually, well, dance, I started having visions of Thor's Asgard, only in disco form, with Mithun Chakravorty as King Odin and Prabhudeva as Loki, clutching their pelvises in aggrieved unison as they wonder just why they were never allowed a claim to the title. Somewhere even higher above, there was the thunderous sound of an unmistakably Memphis sneer, even as a moon giggled while walking.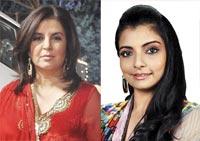 To allow us to believe that Roshan is, indeed, God Of Dance -- a phrase it is hard to write with a straight face, or without imagining Bappi Lahiri singing an accompanying theme song -- we are treated to shots of bare male chests with the word Hrithik emblazoned on them in Hindi. We are also treated to several different shots of different college crowds, stitched together so as to make it look like Roshan's dancing in front of a million plus. Dude, for a throng that big to yell your name with such unanimous love, you'll have to captain the Indian Cricket Team. You're not G.O.D., you're the guy who starred in Guzaarish.
And while Roshan is indeed a very fine mover of his own body, he seems to be buying the hype the show is laying on thicker than ketchup on roadside Maggi. He stands and basks in his newfound divine-dancer status, speaks for a bit about love and hope and belief, and then, grinning ear to ear presumably at the thought of just how much he's getting paid to stand there and be told he's the messiah, he slithers off letting the judges do the judging.
Farah Khan and Vaibhavi Merchant are the judges, and unlike other panels where they play goodcop-badcop (or even goodcop-sexycop-evilcop), these two believe in smiling or frowning unanimously. This, after we realise soon enough that every contestant introduced after a video-montage showing their family and (mostly grassy) roots, will qualify while the others won't.
One relatively limber wavy-haired contestant, however, was left out in the cold seemingly more because of a passing resemblance with the dance devta than any skill-based reason. So the Just in Just Dance isn't about justice either, then.
Rediff Rating: